The Maine Woods

A Publication of the Forest Ecology Network
| | |
| --- | --- |
| Volume Three Number One | Fall 1999 |
INTENSIVE FOREST MANAGEMENT = HERBICIDES AND CLEARCUTS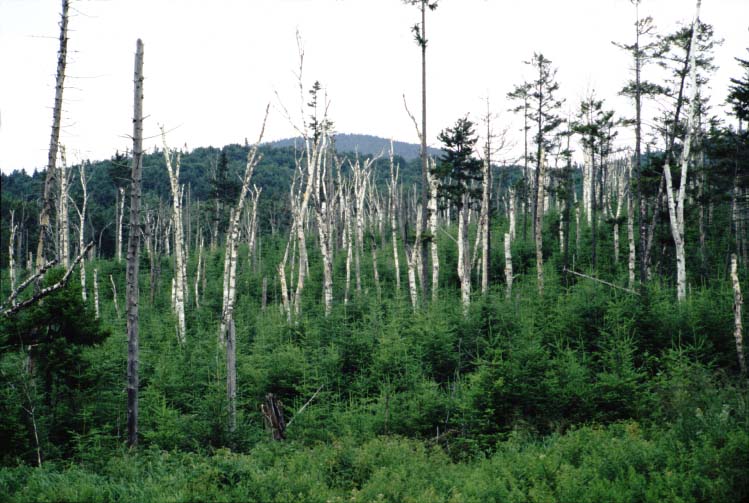 Thousands of healthy Paper Birches killed by herbicide on Mead Paper Company land in Stetsontown Township. Scenes of enormous waste such as this could become a more common sight in the future as paper companies intensify the management of their forests.
Articles in this issue

Letter from the Editor by Paul Donahue
A Voice in the Wilderness - Forest Hope and Restoration by Jonathan Carter
A Forest Protection Act Referendum by Jonathan Carter
Aerial Herbicide Spraying - Poisoning the Maine Woods by Daisy Goodman
The Economic Value of Protecting Wildlands
Doing Big Deals in Maine by Jym St. Pierre
The East-West Highway Report by Pamela Prodan
Our Commitment to You - Clean Clearcuts by Steve Swift
Edwards Damn(n) Hypocrisy by Jonathan Carter
Percival Baxter's Scientific Forestry Management Area by John Herrick
Atlantic Salmon Federation and Trout Unlimited File Second Suit
To Protect United States' Last Wild Atlantic Salmon
Managing Small Woodlots With Big Federal Dollars by Jo Josephson
Forest Ecology Network News
Headwaters Forest Not Yet Protected by Paul Donahue
Saving the Giants in California by Carla Cloer
Plum Creek and Gifford Pinchot National Forest by Brett Clubbe
The Forest Ecology Network Bookshelf
---

---

283 Water Street, 3rd floor, P.O. Box 2118, Augusta, Maine 04338
Phone: 207-623-7140
email: fen@powerlink.net
---
Contact webmaster at meenviro@nemaine.com with problems or suggestions regarding these pages.