A Forest Protection Act Referendum
by Jonathan Carter
Recently a group of citizens submitted a new potential initiative, The Forest Protection Act, to the Secretary of State's Office for review. As one of the citizens involved in writing and submitting the initiative, I wanted to share some of the process and thoughts surrounding our decision to possibly go back to referendum. It was not an easy decision, but a necessary one. In my opinion referenda should occur only after all efforts have been exhausted to work an issue through the legislative process. Indeed, in the wake of the Ban Clearcutting and Compact debate, we did return to the legislature with a simple four point plan which would have allowed clearcutting by permit only, set science based harvest standards, established a mandatory audit, and ensured that cut did not exceed growth. In spite of unanimous support from the environmental community, overwhelming public support, and endorsements from all major daily papers, the big money and numerous lobbyists of the paper corporations were able to kill all four points and stifle any reform.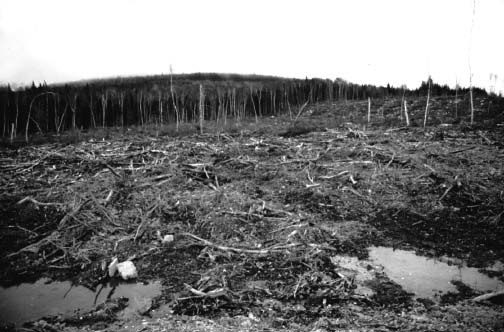 A clearcut in Upper Enchanted Township, Somerset County
It is interesting how four years ago we predicted the industry, contrary to their stated long term commitment to Maine, was on the verge of stripping the resource and would leave Maine. We are all now aware of mill closures, continued job loss, and a massive change in ownership - some commitment on their part! In addition, the legislature has refused to pass even a bill as moderate as a forest liquidation study and the forest service has implemented changes to the forest practice act which enlarges the clearcut acreage needed to trigger a permit and reduces the required buffer zones between larger clearcuts - some progress! It is also worth pointing out that last summer the Maine Forest Service finally admitted that the forests were being cut faster than they were growing back - something which we had also been saying for years. Unfortunately, the Forest Service suggested that one way out of the shortfall was to increase intensive management - clearcut/plantation/ herbicide silviculture. Champion immediately took them up on the idea by announcing a 400,000 acre commitment to this approach.
I don't think there are too many folks who would say we have not tried in the last two years to avoid returning to the referendum process. While we continue to hear talk about sustainability benchmarks, talk is cheap and further delay in substantive reform will only allow more years of poor forestry to be practiced on an already degraded resource.
The proposal we have submitted to the Secretary of State's Office asks for two very understandable mandates. The first is that cut should not exceed growth. We believe that most reasonable people will agree that if a landowner is getting a tree growth tax break, which was designed to promote sustainable yield forestry, they should not be cutting more than is growing. While most small landowners in Maine don't cut more than is growing, it has been documented that industry is harvesting at levels two to three times faster than growth. So while small landowners by and large will not be affected by enforcing the tree growth tax law, the large industrial landowners will have to start practicing sustainable forestry, if they want to continue to receive the incentive tax.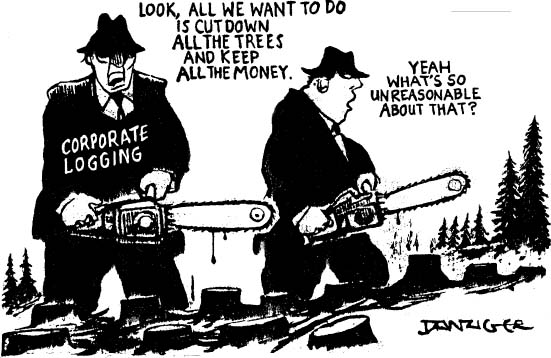 The second point simply asks that all clearcutting require a permit. This is not a ban. It is just a way to make sure that all clearcuts, regardless of size, are silviculturally justified, occur when there are no alternatives, and do not result in ecological damage. Are these unreasonable requests? I think not. We have also asked that the Governor be allowed to appoint a committee composed of the Director of the Forest Service, the Director of the Scientific Forestry Management Area in Baxter, an independent logger, a professional forester, a forest ecologist, a conservation biologist, a soil scientist, a professor of silviculture, and a freshwater ecologist to develop rules around the above points. This group will hopefully be objective since there will be no industry or environmental representatives - just experts. Since this group will develop rules through an open hearing process, it will be possible for us to make sure the outcome is not subverted.
This new initiative attempts to offer a positive approach to resolving the forest debate. While there are those, for their own political reasons, who will try once again to polarize the issue, we are hopeful that the people of Maine will look beyond all the rhetoric and propaganda. We are hopeful they will see the forests as we see them - as Maine's greatest natural resource - as a part of our natural heritage - as not only an important part of our economic future, but also as an important part of the biological fabric which makes our state so special. We hope they will see the merits of a Forest Protection Act which will ensure healthy forests for the future.
To the Legislature of the State of Maine:
In accordance with Section 18 of Article IV, Part Third of the Constitution of the State of Maine, the undersigned electors of the State of Maine, qualified to vote for Governor, residing in said State, whose names have been certified, hereby respectfully propose to the Legislature for its consideration the following entitled legislation:
The Forest Protection Act
The full text of this Act is printed below. The question on the ballot will read as follows
Be it enacted by the People of the State of Maine as follows:
Sec. 6. 12 MRSA §8869, sub-§§13 to 14 are enacted to read:
13. Reasonable Cutting Levels. In accordance with the Governor's Maine Council on Sustainable Forest Management Report of July 1996, total cutting activities and cutting activities for each species group may not exceed sustainable cutting levels for any rolling 10-year average. This means that the yearly allowable cut levels can not be greater than the average annual growth during the past ten years. This applies only to landowners who are enrolled under the Maine Tree Growth Tax Law.
14. Clear-cutting Permit required; variance. A landowner must obtain a permit from the Maine Forest Service prior to undertaking cutting activities that will result in a clear-cut. Prior to issuing a permit for a clear-cut, the Maine Forest Service must determine that the clear-cut is silviculturally justified, that there are no reasonable alternatives to the proposed clear-cut, and that no undue adverse ecological damage will result from the clear-cut or the clear-cutting activities. There must be public notice of any permit application and an opportunity to appeal any decision by the Maine Forest Service on permitting.
A Maine Council on Sustainable Forest Management appointed by the Governor shall establish rules relating to these two subsections through the public hearing process. In addition to the Director of the Maine Forest Service and the Director of Baxter Park's Scientific Forestry Management Unit, the Council will consist of one representative from each of the following categories: independent logger, professional forester, forest ecologist, conservation biologist, a soil scientist, a professor of silviculture, and a freshwater ecologist. All rules must be consistent with and guided by current scientific research. Rules must be established no later than six months after passage of this act.
---

---

283 Water Street, 3rd floor, P.O. Box 2118, Augusta, Maine 04338
Phone: 207-623-7140
email: fen@powerlink.net
---
Contact webmaster at meenviro@nemaine.com with problems or suggestions regarding these pages.