The Forest Ecology Network Bookshelf
Lost Landscapes and Failed Economies : The Search for a Value of Place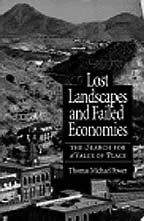 by Thomas Michael Power
paperback - 304 pages
Reprint edition (April 1998)
Island Press. ISBN: 1559633697
In Lost Landscapes and Failed Economies, economist Thomas Michael Power argues that the quality of the natural landscape is an essential part of a community's permanent economic base and should not be sacrificed in short-term efforts to maintain employment levels in industries that are ultimately not sustainable. He provides numerous case studies of the ranching, mining, and timber industries in a critical analysis of the role played by extractive industry in our communities. He also looks at areas where environmental protection measures have been enacted and examines the impact of protected landscapes on local economies. Power exposes the fundamental flaws in the widely accepted view of the local economy built around the "extractive model," a model that overemphasizes the importance of extractive industries and assumes that people don't care where they live and that businesses don't care about the available labor supply. By revealing the inadequacies of the extractive model, he lays to rest the fear that environmental protection will cause an imminent collapse of the community, and puts economic tools in the hands of those working to protect their communities.
Balancing Nature and Commerce in Gateway Communities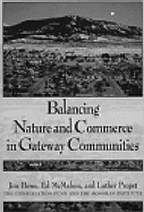 by Jim Howe, Ed McMahon (Contributor), Luther Propst (Contributor)
paperback - 165 pages (June 1997)
Island Press; ISBN: 1559635452
An excellent resource, Balancing Nature and Commerce in Gateway Communities is a must read for anyone who still believes that environmentalism and economic development are fundamentally opposed propositions. This book of case studies and analysis describes several successful ways in which communities created new jobs and economic opportunities while celebrating and protecting, rather than exploiting, their area's natural resources.
From the Redwood Forest - Ancient Trees and the Bottom Line: A Headwaters Journey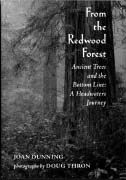 by Joan Dunning
paperback - 272 pages (October 1998)
Chelsea Green Publishing Company
ISBN: 189013211X
Commentary by the author, Oct. 8, 1998:
The book begins, "I never intended to get involved with the controversy surrounding the Headwaters Forest, let alone write a book about it. I have always considered myself a naturalist, not an activist." It then traces my journey deep into an issue that is filled with fascinating characters, agonizing problems, and profound lessons.
I have interviewed the young activists who were tortured when police put concentrated pepper spray in their eyes; climbed a 180-foot redwood to visit Julia Butterfly who has remained on a platform in the tree for almost a year; met Charles Hurwitz, CEO of MAXXAM, the corporation which is destroying all but a tenth of the Headwaters Forest; talked with the landowners whose property adjoins MAXXAM's and witnessed firsthand how their quality of life and property value have been diminished due to the logging upslope; become one of the few people who have hiked to all six groves that are a part of Headwaters Forest; and now, looked into the eyes of the Earth First! activists who saw David Gypsy Chain killed when an irate logger deliberately felled trees in their direction.
All over America, a growing number of activists are fighting battles that should have been settled through government action. David Chain died trying to hold off the cutting of ancient trees in Grizzly Creek watershed until the California Department of Forestry could determine the legality of the timber operation under way. But CDF didn't come until it was too late. This is a book, from a mother's point of view, about citizen responsibility and action in the face of government complicity with corporate law-breaking. From the Redwood Forest explores in depth a classic environmental battle of epic proportions. It underscores the fact that we need to sieze the opportunity to collectively inform ourselves and brainstorm now, while the world is watching, rather than wait for even more violent struggles to expose the same problems without the benefit of public scrutiny. Fifty-seven of Doug Thron's finest color photographs show clearly the widespread destruction that is occurring behind the forested beauty strips that line our highways and also the wild majesty of that renowned forest known as Headwaters.


---

---

283 Water Street, 3rd floor, P.O. Box 2118, Augusta, Maine 04338
Phone: 207-623-7140
email: fen@powerlink.net
---
Contact webmaster at meenviro@nemaine.com with problems or suggestions regarding these pages.