Doing Big Deals in Maine
by Jym St. Pierre
There have been sales of papermills and large land holdings in Maine before. In fact, since the mid-1980s, on average one major ownership has been sold every other year. But there has not been an avalanche of large land sales in Maine like the last half of 1998 and the first half of 1999 since...well, probably not since Maine was still a district owned by Massachusetts a couple of centuries ago. In the past year the pace of big sales in Maine has been dizzying. Some of them are sincerely good. Some of them are not all they are cracked up to be. Here is a guide to help you sort the seeds from the weeds.
Let's Make a Lot of Deals
In June, 1998 South African Pulp & Paper Industries (Sappi) kicked off the liquidation sale of thousands of square miles of forestlands in Maine by putting its more than 900,000 acres in the state on the market. By October 6, Sappi had negotiated to sell its entire land holdings to Plum Creek Timber Co. for $180 million. At the same time, Sappi agreed to sell no-development shoreland easements on Moosehead and Flagstaff Lakes and the Kennebec River to the State. But that part of the deal soon fell through. Plum Creek is based in Seattle, Washington. The company has been on an aggressive land buying spree for the past ten years, scooping up large holdings in Montana, Washington, Idaho, Louisiana and Arkansas. With the purchase of Sappi's Maine lands Plum Creek became the fifth largest private timberland owner in the United States.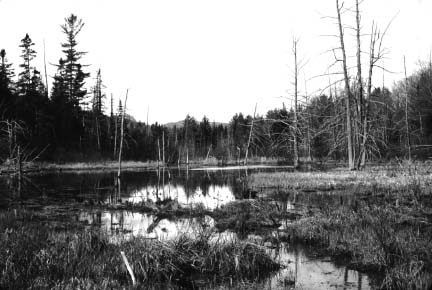 A beaver pond in the Maine Woods
In September, 1998, Robbins Lumber Co. confirmed that it desperately wanted to sell to the government a few hundred acres of islands and shorelands and development rights on the rest of its 22,000 acres of forestland in eastern Maine. The Robbins say they will have to subdivide a lot of the land if they are not paid millions of dollars. Their scheme is working. In February, the US Forest Service said they are making this their top priority in the Northeast with a million dollar allocation this year and millions more expected to follow. In March, the Land for Maine's Future Board made the Robbins property their highest pick out of 53 candidate properties. Some folks, such as retired woodsman Bill Butler, believe the islands the Robbins want to sell probably already belong to the people of Maine, under an old statute. In any case, the islands and shorelands are beautiful and deserve to be in full public ownership, but the pressure to get paid for easements on the backlands comes close to extortion of the public.

On October 21, Bowater, parent corporation of Great Northern Paper, announced it would sell nearly a million acres to J.D. Irving, Ltd. of New Brunswick for $216 million. Great Northern had been the largest landowner in Maine for as long as anyone could remember. No more. By the time the deal closed in March, Irving, which already owned more than a half million acres in the state, had become king of the hill. Irving has also snagged some other big assets. The wealthy family-owned company acquired Great Northern's large Pinkham Lumber mill in Ashland as part of the purchase from Bowater. Irving separately bought the mammoth Highland Lumber white pine mill in Dixfield. In a public relations coup the Canadian conglomerate also persuaded Chuck Gadzik, former State Forestry Director, to go back through the industry-government revolving door to head up Irving's operations in Maine.

On November 2, Bowater announced another mega sale. This time 656,000 acres were being sold to McDonald Investment Co., of Birmingham, Alabama, for $155 million. McDonald Investment is owned by a secretive family with a diversified financial portfolio including land holdings in New Hampshire, New York, Florida, the Carolinas and Ontario. Wagner Forest Management of Lyme, NH, brokered the deal and will manage the new McDonald lands under the legal name Great Northwoods, LLC.

On December 15, The Nature Conservancy announced the purchase of 185,000 acres in the St. John watershed from International Paper Company for $35.1 million. Finally, conservationists had reason to cheer. Newspapers across the country ran headlines such as "Group to Preserve Remote Wilderness." The TNC purchase is extraordinary. It encompasses 40 miles of the longest free-flowing river left in the eastern U.S. The organization deserves huge credit for such a bold stroke. Indeed, Kent Wommack, executive director of the Maine Chapter of TNC, has been awarded the 1999 Down East Environmental Award for his leadership on the project. Nevertheless, there are shadows. The Conservancy plans to treat the St. John properties differently than its "preserve" lands. It expects to retain some of the St. John acres as wilderness, but other portions will be managed as working forest, with extractive and motorized activities (logging, hunting, trapping, snowmobiling, etc.). And it hopes to trade or sell much of the land to facilitate conservation of other lands along the St. John River. As with the McDonald purchase, Wagner Forest Management helped arrange the deal and will manage the timber.

On March 3, Pingree Associates, the largest family ownership in Maine, announced they had struck an arrangement with the New England Forestry Foundation to sell no-development easements on three-quarters of their nearly million acres. NEEF has two years to raise $30 million to buy the development rights on 754,673 acres of Pingree lands in northern and western Maine. They say they intend to get the money from private sources, but they will not rule out that some may come from public funding. News stories and editorials across America have touted this as the largest conservation easement in the history of the United States, perhaps the world. Unquestionably there are superlative aspects to the proposal. There is enormous value in protecting from development more than 2,200 miles of water frontage, the shorelines of more than 100 lakes and ponds, scores of sensitive plant sites, and half a dozen bald eagle and peregrine falcon nests. However, there is much more to the story than has been told.

In mid-March another substantial land sale hit the news. The buyers were again Alabama investors and Wagner Forest Management again engineered the purchase. The transaction involved more than 90,000 acres in western Maine formerly owned by the Stowell family through Highland Lumber Co., a subsidiary of their United Timber Corp. Highland Lumber sold the land for an undisclosed sum as part of a bankruptcy settlement.

On March 25, Plum Creek Timber Co. announced its intent to sell to the State for $5.2 million more than 65 miles of shoreland from the 905,000 acres it just picked up. The deal is a complicated, multi-party trade and sale, but it involves essentially the same lands the State was supposed to buy easements on last fall from Sappi, plus another 4,000 acres on Mount Abram near the Appalachian Trail and some frontage on the Kennebec River at the Forks. What does Plum Creek get? It gets some sorely needed good publicity, it gets to unload shoreland that is tough to manage because of state regulations, it earns more than a seven-fold return over the purchase price paid just six months ago, and it increases its land base in Maine by about 7,500 acres.

On March 25, American Tissue Corp. said it is buying the Crown Vantage pulp and paper mills in Berlin and Gorham, NH, for $45 million. The mills draw fiber from western Maine as well as from New Hampshire and Vermont.

On April 13, Sappi, the South African owner of the old S.D. Warren paper mill in Westbrook announced it was closing the pulp mill there and shutting down a paper machine. That meant the loss in late June of 315 of the 810 jobs at the facility. Sappi had already sold all of its 905,000 acres of forestland in Maine last fall to Plum Creek Timber Company.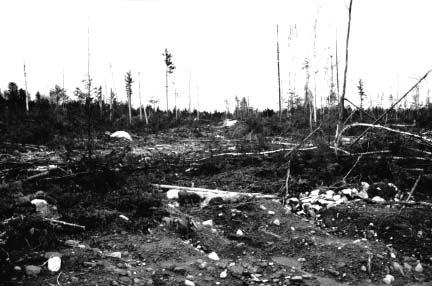 Heavily cut-over paper company land in Somerset County
On April 26, Georgia-Pacific Corp. announced it was going to sell its 446,000 acres in Maine to unnamed investors for an undisclosed sum. The news of the sale of G-P's Maine lands came just two weeks after the company said it would sell its 390,000 acres in New Brunswick to the provincial government there for $41 million. The G-P lands straddling the international border include most of the St. Croix watershed. However, New Brunswick, unlike Maine, recognizes the value of large public lands. Approximately half of the province of New Brunswick is already in public ownership, nearly eight million acres compared to less than six percent of the state of Maine. Finally, in late June, Maine Times revealed that the buyers of Georgia-Pacific's Maine lands are Yale University's pension fund and McDonald Investment Company of Alabama. The price was about $55 million or only $125/acre. The low price reflects the poor tree stocking condition of the lands due to excessive logging. These land sales leave the future uncertain for G-P's three mills in Maine, a pulp and papermill, a stud mill, and a composite board plant. The company says the mills are "doing really well" and will not be dumped like the land. Perhaps.

On May 19, Bowater abruptly announced its intention to sell all of its Great Northern Paper properties in Maine to Inexcon, a small company based in Quebec that specializes in rescuing businesses on the brink. GNP qualified. After more than a year of failing to attract a buyer, Bowater was within weeks of shutting down the GNP mill in Millinocket. Inexcon plans to buy not only the papermill in Millinocket but also the mill in East Millinocket, and Great Northern's huge hydropower system and remaining forest lands here totaling close to 380,000 acres. According to research by The Katahdin Times, Inexcon Papers is a new company incorporated in April just a week before its two principals, Joseph Kass and Lambert Bedard, arrived in Millinocket to kick the tires of the Bowater assets. Inexcon owns no mills and employs no papermakers, but Kass and Bedard claim to have more than 60 years of combined experience in the paper industry.

Bowater had been cooperating with a group of its mill employees who were trying to put together financing to buy, at first, just the Millinocket mill, then, by the beginning of May, all of the GNP real estate. How desperate Bowater was to sell its Maine holdings is demonstrated by how suddenly it suspended negotiations over the worker ESOP (Employee Stock Ownership Plan) proposal, and how quickly Bowater agreed to sell to a couple of guys from Canada who say they have financial backing to buy and restructure Great Northern Paper. During the summer the sale nearly fell through when many of the unionized mill workers voted to not go along with concessions Inexcon insisted were essential to make the deal financially workable. By mid-August the unions and Inexcon had come to terms and the sale was closed, though no one would reveal the $250 million purchase money came from or whether some or all of the lands will be resold.

The three sales by Bowater this year to Irving, McDonald and Inexcon come at the very moment in history when Great Northern is marking its centennial anniversary. But the old Great Northern Paper is long gone. The end began in 1970 when the company merged with Nekoosa Edwards Paper of Wisconsin to create Great Northern Nekoosa. In 1990, Georgia-Pacific took over Great Northern Nekoosa in a hostile purchase, then sold off the Maine properties in 1991 to Bowater of South Carolina. So after 100 years of papermaking, thirty years of neglect, multiple owners over the past decade, and the complete disintegration of the Great Northern kingdom this year, the 100th birthday party is not a very joyous time for those who knew the old Great Northern. Moreover, besides the concessions in worker benefits Inexcon has already won, it will not follow through with modernization of the East Millinocket mill. And it is calculating how many jobs will not be needed in the new incarnation of the company.

On June 29, Mead Corp. said it planned to shut down four uncoated paper machines at its Rumford mill by the end of the year. That will slash its workforce of 1,400 in the state by 200 jobs. Mead is shifting production of security papers from Maine to Ohio. The company said it is cutting back here because the machines are very old and it wants to focus on making coated papers.

On August 11, nearly a week ahead of the bid deadline, International Paper Co. announced the sale of its remaining 245,000 acres in northern Maine to Clayton Lake Woodlands LLC, whose principals are a couple of logging companies, Pelletier & Pelletier of Fort Kent and Logging and Lumber (a subsidiary of Materiel Blanchet of Quebec). The deal involved all or part of thirteen townships, including full ownership in nine and partial ownership in four. The lands surround more than ten miles of the Allagash Wilderness Waterway, which is managed by the State as part of the National Wild & Scenic River System. Sadly, none of the lands will go into public ownership to improve protection of the Allagash. Instead the already heavily logged lands will be further logged. A lot of the wood will go to the Blanchet sawmill just over the border in Quebec. The purchase price was not disclosed, but speculation is the logging companies that partnered to buy the quarter million acres paid much less $200 per acre because of the poor stocking on the lands.

Those are the actual blue light special land and mill sales over the past year. There has also been at least one virtual sale. On the March 8 television program Law & Order one of the bad guys was supposed to be negotiating a deal to sell family timberlands to the State of Maine. The large land sales in the Maine Woods have even made it into the script lines of American prime time TV, the most universal of cultural icons at the trailing edge of the millennium. Whatever happens on network television the real estate Sale of the Century in Maine may not be over yet.
Funding Buyers for a Buyers Market
The unprecedented land sales in the Maine Woods have presented a tremendous opportunity for private buyers. And plenty have taken advantage. But the blowout sales have left the public mostly on the sidelines.

Many conservationists have contributed millions of dollars to direct land acquisition and they deserve terrific credit. The Nature Conservancy, Trust for Public Land, Maine Wilderness Watershed Trust, North Woods Wilderness Trust, Sweet Water Trust, Trust for Appalachian Trail Lands and other private conservation groups and generous individuals have given wildlands philanthropy a new lease on life in Maine. Still, there are some troubling questions. Nor can we fairly expect the private sector to do it all for us. Where are our state and national governments in protecting the public interests at risks?

The State of Maine has little money of its own and a hostile attitude toward federal acquisitions. It also has been demonstrating a powerful confusion over whether wilderness is repulsive or attractive. Gov. Angus King insists that "I'm not going to devastate the economy of northern Maine for some extreme notion of wilderness." However, his Maine Office of Tourism recently published a glossy brochure that advertises "Most of the state remains as pristine as a primal forest."

The beat of ambivalence over public lands has been pounded out in the Legislature as well. This year there were bills ranging from a cap on the amount of public lands, to bonds of up to $120 million in new state land funding, and everything in-between. Gov. King proposed a $50 million bond in new Land for Maine's Future money, to be matched by $25 million in private funding. The legislature went along with that, putting it on the ballot for a vote on November 2.
Meanwhile, the federal government is anxious to get into the act. Last year the Clinton Administration identified the Northern Forest region as one of only three Focus Ecosystem regions nationwide for 1999. That brought national attention but not much cash to our neck of the woods.

For Fiscal Year 2000, the Administration proposed a pair of relevant programs. A Lands Legacy Initiative would appropriate $442 million next year for federal acquisitions including about $50 million to acquire national lands in New England-New York. Another $150 million would be for matching grants to states and $50 million for forest legacy easement grants to states. The Clinton-Gore Smart Growth/Livable Communities Initiative would make close to $600 million dollars available for preserving farmland, suburban green spaces and local parklands as well as incentives to control sprawl. Of course, those are proposals mostly to boost Al Gore's presidential campaign.

Congress has already taken back control of appropriations for land conservation. Rep. Don Young (R-AK) and Senator Mary Landrieu (D-LA) introduced a bill, the Conservation and Reinvestment Act, to fully fund the languishing Land and Water Conservation Fund. The catch is that there would be huge incentives to increase off-shore oil drilling in their coastal states. Rep. George Miller (D-CA) and Senator Barbara Boxer (D-CA) have a better proposal, the Resources 2000 bill, which would provide permanent annual funding of $2.3 billion without the drilling incentives. The Miller bill is H.R. 798; the Boxer bill is S. 446. By October the Congress and the President are supposed to have worked out their political budget deal. Stay tuned.
What does it all mean?
There are a number of important questions and significant conclusions that can be teased out the recent and ongoing big land sales, easement deals and power struggles in Maine over land.
First, why is this happening? Forest historian David C. Smith of the University of Maine prospectively answered that question ten years ago: Lowered prices, southern competition, the shift to non-wovens and plastics, the problems posed by recreational uses, state and inheritance taxes, wider and more remote ownerships, and quarterly dividends all have as their greatest energy the need to maximize profits; and in the short run, that appears to require divestment and reinvestment elsewhere.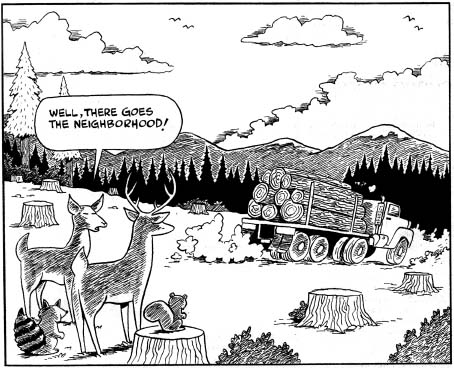 The search for better short-term returns may be driving the real estate selling frenzy, but there is something else going on too. Many of the big land sellers have been able to get somebody to pay them cash for their land, to take on the responsibility for paying taxes and insurance, to manage public recreation on their private lands, to incur the exposure of loss to wind, ice, fire, insects and disease. And, to top it off, some sellers have been able to get the new owners to sign long-term agreements to help supply their fiber needs. Such a deal. Why put up with the headaches of land ownership when you can get all the benefits with none of the risks?

Second, who are the new kingpins? The old lords of the great northern kingdom have been overthrown. In the new pecking order of major land ownerships the industrial paper corporations are still big players on the whole. However, there have been some fundamental shifts in the traditional ownership patterns.

For one thing, the type of ownership mix has changed. Institutional owners are coming on strong. Some are family groups who have made a killing in the bull market of the 1980-90s and are looking to diversify their investment portfolios by adding cheap real estate. Some are insurance companies and pension firms looking for a reasonable, if not spectacular, return on investments so they can make regular payments to their clients.

For another thing, the mix of ownership sizes has changed. Maine had a very small number of very large owners and a very large number of very small owners. The breakup of several of the big guys has led to a number of new medium sized owners in the hundreds of thousands of acres range.

With ownership of 1.6 million acres, the giant Canadian conglomerate J.D. Irving has succeeded in its long standing objective of being the biggest land owner in the state of Maine. Forbes says, through a web of privately held companies, the Irvings already "control an empire that dominates Atlantic Canada's commerce." The magazine estimates their net worth to be $4 billion. Now the Irvings can continue to use their powerful regional market positions in forest products, papermaking and packaging, shipbuilding, trucking, oil shipping and refining, gasoline sales and restaurants to pursue their expansions into the lucrative East Coast markets and beyond.

Less obvious is the fact that a dark horse has moved up fast from the back of the pack. Wagner Forest Management of Lyme, NH, has been finding people to put up money to buy big pieces of forestland, which Wagner manages as sort of a family of forestry mutual funds. Wagner now oversees millions of acres in Maine, New Hampshire, Vermont, New York and Ontario. In Maine that includes approximately 1.8 million acres: McDonald Investment's 656,000 acres, Georgia-Pacific's 446,000 acres, Hancock Timber's 380,000 acres, The Nature Conservancy's 185,000 acres, the 91,000 acres of bankrupt United Timber properties sold to a trio of Alabaman investors, plus, smaller ownerships totaling thousands more acres. Wagner has quietly maneuvered into first place in extent of lands controlled in the state.

Hank Swan, patriarch of Wagner, has sold the company to his management team, but he continues to speak for the firm. They employ about 70, including 40 foresters, and plan to hire more. So that they can focus on forestry, Wagner also plans to spin off lands for its clients which are "better suited for other uses, including development," according to Swan. That probably means they plan to start marketing shorelands that will bring top dollar. Nor is it likely Wagner is done arranging land purchases in Maine or other parts of the Northern Forest.

Wagner stirred up a hornets nest in the north woods this summer by putting the 656,000 acres bought by McDonald Investment Company this year from Bowater under the recreational management of North Maine Woods, Inc. NMW established a revamped gate system. New resident day use fees and higher camping fees for everyone angered a lot of visitors who lashed out. Leaseholders had to pay higher access fees and several businesses located behind the gates saw business drop by as much as 50 percent early in the season. The Maine Leaseholders Association threatened to sue. The restaurant at Pittston Farm said it may close. A force representing the Millinocket Fin & Feather Club showed up at one gate to practice some semi-civil disobedience. After the NMW attendant broke down in tears, the Fin & Feather guys left. Following the first couple of weekends under the new system, one NMW checkpoint attendant said "We should have gotten combat pay."

Third, what is the public getting? So far, not much public land permanently preserved. There are three possible public interest buyers--our national government, our state government, and private conservation interests. To date there have been no big federal acquisitions in the Maine Woods during the landslide of land sales. The power structure--Governor Angus King, the Maine congressional delegation, key legislators, the forest industry, the hunting, trapping and snowmobiling special interest lobbies, private property extremists, and some conservation groups--have joined to block any federal acquisitions. A CNN news report in January that the Clinton Administration planned to spend tens of millions of dollars on federal purchases in northern Maine was wrong. And the debate in Congress about increasing funding for conservation acquisitions, at least as it pertains to the Maine Woods, has focused not on federal purchases, but on revving up grants to the states in the wake of zero funding on that side of the equation the past four years.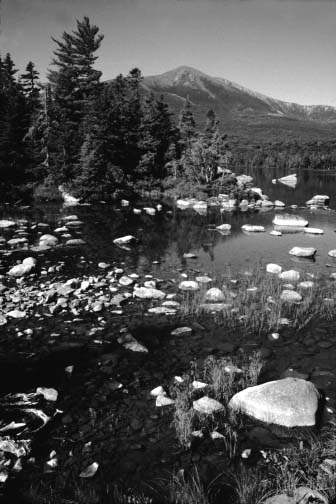 Mt. Katahdin from Sandy Stream Pond
Despite this, or perhaps because of it, the campaign supporting creation of a new Maine Woods National Park and Preserve continues to gain momentum. More than 75,000 citizens have signed petitions calling for a full public study of the park idea. Scores of businesses have signed on. Dozens of state, regional and national conservation groups are coalescing around the idea. Sierra Club, for instance, has made the Maine Woods National Park and Preserve one of its top six national wildland priorities. The philosopher Arthur Schopenhauer said "Every truth passes through three stages before it is recognized. In the first, it is ridiculed. In the second, it is opposed. In the third, it is regarded as self-evident." The Maine Woods National Park campaign is already in the second stage and well on the way to the third.

While the feds are being held at arms length, the State is missing opportunity after opportunity to acquire wildlands. Governor King had a handshake arrangement with Sappi to purchase development rights on a few shorelands. That fell apart over a disagreement on price. Now the Governor has an understanding with Plum Creek that Maine will buy beauty strips along Moosehead and Flagstaff Lakes and the Kennebec West Outlet for $5.2 million. But the State cannot and will not acquire public lands to protect the values at risk on a landscape scale. The State is also working to help fund the acquisition of easements on the Robbins brothers' forestlands at Nicatous Lake. Aside from those projects, the State has been a bystander watching the massive wildland sales whiz by. Little change in that is likely even if a substantial Land for Maine's Future bond is approved by the voters this fall. Most of that money is expected to go to projects in southern Maine.

In the absence, then, of major federal or state action, the private conservation groups have had to step up to the plate. The Nature Conservancy's purchase of 185,000 acres from International Paper in the St. John watershed is the biggest conservation project completed to date. The Trust for Public Land, the Trust for Appalachian Trail Lands and several other groups are involved with the Plum Creek deal. The Forest Society of Maine is choreographing the Robbins' easement. The New England Forestry Foundation is beating the bushes to raise tens of millions to buy the Pingree development rights. Some of these are deals are much deeper green than others, but they all beg the question of how long we can expect to rely on the private sector to do the public's business.

Fourth, what is the right balance of public and private lands for Maine? There is no definitive quantitative answer. State of the art science points to the need for much more permanently protected and connected land. State of the debate opinions range from no public lands to as much as possible. For now, the Maine Economic Growth Council, the Land Acquisition Priorities Advisory Committee and the mainstream conservation groups have settled on aiming to double the amount of public land in Maine by 2020. More progressive thinkers realize we need at least twice as much as that.

Fifth, is protection of a few "strategic" lands good enough? Many argue if we bring more shorelands and high value recreation spots into full fee public ownership or at least acquire development rights in such areas, we can save the most important public values without taking lands out of forest production, and often without taking them off the tax rolls. Others say we need to be protecting on a landscape scale, that wildlands are a rarity and a bargain not to be passed up at the current wholesale prices, and that the long-term ecological services and economic values of public lands typically provide a higher return to the public than private lands.

Actually, we need both. It is helpful for the State to focus its limited resources on carefully targeted special areas to provide some interim protection. However, we cannot afford to keep our national partner on the sidelines. Without tapping the resources of our national government we cannot finish the job. The acquisition by of shorelands from Plum Creek, for instance, is certainly better than the beauty strip easements the State was going to get from Sappi. But we need to not forget that the other 898,000 acres Plum Creek owns in Maine include a lot of significant areas, such as lands on the west shore of Moosehead, which are going to remain vulnerable. Acquiring a few beauty strips does not preserve biodiversity across the landscape. It is only a downpayment on the larger task.

Sixth, are no-development easements the panacea they are being portrayed as? No. Conservation easements were pioneered for use on relatively small, high value properties, such as coastal islands. And for years most were donated to public agencies and public interest groups. Such easements are not a good instrument to ensure sustainable forestry, they are not usually designed to preserve ecosystem integrity, and they could quickly drain the public and philanthropic coffers. Conservation easements are an important tool, but there is great potential for misusing them. It is like appropriate technology. If you need to drive a nail, don't grab a screwdriver.

The proposed Pingree easements, a case in point, raise many serious issues. Most of their land is so remote it would not likely be under development pressure for a long time. But the Pingree Associates are arranging a dream deal. They will get paid to not develop land most of which would not have been developed anyway. They get to keep all the other use rights, so they can log the land indefinitely and the easements would not prevent overcutting. Public access would not be guaranteed and nothing would change concerning protection of wildlife habitat or preservation of biodiversity. The New England Forestry Foundation has revealed that they "will be exploring selling some of the easement rights to utility companies that burn fossil fuels as a way to offset the carbon they are releasing into the atmosphere." That could set a horrific precedent if polluting companies can get global climate change credits for "protecting" forestland that is not fully protected.

Meanwhile, the fate of the lands not covered by the easements hangs in the balance. Steve Schley, president of Pingree Associates, has told the Land Use Regulation Commission they "don't have any plans for development" of the 187,000 acres of uneasement lands. However, there have apparently been private discussions between the Pingrees and LURC staff about using the easements as an offset to get permission for more intensive development than would be allowed otherwise on the uneasement lands. In short, we have plenty of private working forest. We need public wilderness. The Pingree easement deal is neither public nor wilderness.

People should be skeptical also of proposals like that being pushed by the Robbins brothers to sell to the public easements covering large upland areas. Indeed, there is a huge irony in the Robbins turning to the government for relief. This is the same Robbins family who helped lead the charge to kill the Ban Clearcutting referendum a few years ago, who allied with Mary Adams to kill even the modest Forest Compact in two statewide votes, who fronted for the paper companies to kill the reasonable four-point forestry plan in the legislature last year, who led the hard-liners in ousting the moderates and taking over the leadership of the Maine Forest Products Council, and who endlessly whine about getting the government off their backs. According to the newsletter of the Maine Forest Products Council, the industry lobby group which Jim Robbins chaired until last spring, "he has reservations about spending millions of [dollars of] taxpayer's money to transform large expanses of productive timberlands into non-tax-paying pubic lands." He conveniently ignores the fact that most state and federal lands make payments in lieu of taxes. He also seems to have no qualms about trying to coerce the public into paying him millions of dollars to compensate him for his land speculations. At least the Pingrees are going to try to avoid taking public funding for their easements.
What questions are not being asked?
Yes, there has been some public discourse about the causes of the big land sales, whether the public should have funding to be a bidder, what the roles should be of the different levels of government, how much public land we need, and the value of easements versus full public ownership. However, there has been little debate about the underlying social, economic and environmental costs and benefits of working forests compared to wilderness. There has been little debate about whether it is in the long-term public interest for Maine to perpetuate policies that ensure the state will remain a third world economy with an over-reliance on resource extraction and half the real property controlled by absentee, corporate managers driven by the vagaries of the global market. There has been little debate about why so many Canadian woods workers are employed in Maine and whether there is a forestry future for traditional forestry towns like Allagash, Ashland and Millinocket.

Until we confront some of these fundamental enigmas most of the public discussion will focus on the issues at the margin. At the margin is certainly where the anti-environmental movement wants to keep the debate.

The Sale of the Century continues in Maine. While some good conservation gains are being made, with one or two exceptions, they are small or inadequate or misleading compared to the need and the opportunity. The private landowners and the State can and want to preserve some beauty strips backed by vast areas of working forest. They cannot and will not protect big public wilderness, which more than anything is what we need in the Maine Woods. The people of America can and will have to do that. As the advantages of the old system evaporate, more and more people are recognizing the benefits of restoring to public ownership much more of the Maine Woods, such as the Moosehead-Katahdin region.
© 1999 Jym St. Pierre
Jym St. Pierre is Maine Director of RESTORE: The North Woods, 9 Union Street, Hallowell, ME 04347, 207-626-5635, jym@restore.org.

8/17/99
---

---

283 Water Street, 3rd floor, P.O. Box 2118, Augusta, Maine 04338
Phone: 207-623-7140
email: fen@powerlink.net
---
Contact webmaster at meenviro@nemaine.com with problems or suggestions regarding these pages.