Atlantic Salmon Hearings
press release from the Coastal Waters Project
In late January and early February three hearings were held on the proposal to protect Maine's Atlantic Salmon under the Endangered Species Act. The three hearings, which were hosted by the federal government to solicit public opinion on their proposal to list wild Atlantic Salmon as 'endangered', took place in Machias, Ellsworth and Rockland. But a critic of the plan says that two giant agri-business concerns, with ties to industrial hogfarming and Chilean aquaculture interests, sent busloads of employees to each hearing, filling up the public sign-up sheets before most local citizens arrived at the meeting halls. The well-organized maneuver prevented local citizens from speaking until hours after the media and local officials had departed the hearings.
"This is classic multinational sleaze," said Ron Huber, director of the Rockland-based Coastal Waters Project. Huber, who videotaped all three hearings, said "The very same corporations pushing marine feedlots in our coastal waters do the exact same thing at public hearings in the southeastern US, when trying to force their giant hog feedlot operations on unwilling towns there."
"Industry knows that few if any journalists or politicians ever stay past the first few testifiers at public hearings," Huber said. "So they ship busloads of company employees and contractors to the hearings and pack that first hour." The hearings in Ellsworth and Rockland were textbook examples", he noted.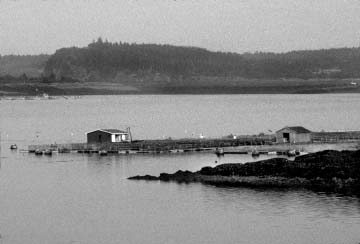 Salmon pens in Passamaquoddy Bay off Lubec.
"Atlantic Salmon of Maine Corp and Stolt Seafarms, the world's biggest hog feedlot operator and the world's biggest fish feedlot operator, respectively, so completely filled the speaker rosters at these two hearings, that few residents of Ellsworth, and nobody from Rockland, had a chance to testify until more than an hour and a half into the public testimony part of these hearings." At the Rockland hearing, citizens were forced to wait for an hour and a half while nearly every employee from Stolt's Washington County operations went first.
"People were furious at this hijacking of their public hearing." Huber noted. "The local media, which with few exceptions had left well before any locals spoke, was completely gulled, and wrote 'salmon protection draws fire'- type stories featuring only the marine feedlot industry's representatives."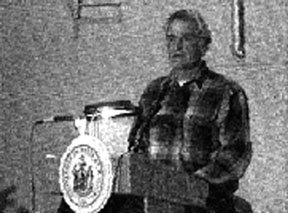 FEN board member Charles Fitzgerald testifies at the salmon hearings in Machias.
Huber said, "The real story at the hearings: the revelation that these two companies' marine feedlot operations choking the downeast coast are in brazen violation of federal law forbidding the use of hybrid euro-fish; and the well-documented utter failure of Maine's government to protect its wild salmon, was completely overlooked."
Huber noted that the leaders of Maine's Wi$e U$e movement were also revealed for what they are - "willing pawns of foreign government-controlled corporations bent on taking control of Maine's bays and inshore waters."
"Maine's coastal fishing fleet rightly fears the corporate aquacultists. That industry is waging an undeclared war to drive Maine fishermen off of their own fishing grounds." Huber said, adding that "The fishing industry doesn't trust the federal government, but it also completely opposes the marine hogfarmers' ocean-grab."
"That's as true here as it is in Oregon and Washington state," he said, "where the government has officially designated hybrid 'Atlantic Salmon' escapees from fishpens there as 'pollution'. Here, the multinationals have also polluted Maine's public hearing process."
He added, "It's too bad that Maine's self-proclaimed protectors of free enterprise have turned out to be willing pawns of foreign government-controlled corporations bent on taking control of Maine's bays and inshore waters away from those that have fished there for hundreds of years, and handing it over to Chilean, European and Canadian interests. In my book, that's the definition of a traitor."
The Coastal Waters Project is a citizens' association dedicated to protecting and restoring Maine's coastal marine ecosystems. See related stories at our website at: http://userpages.acadia.net/coastwatch
Other Articles About Atlantic Salmon in This Issue
Quisling Rivalry
Atlantic Salmon, Extinction by Politics?
Testimony at Salmon Hearings
Will We Ever Learn: Report of the Commission to study the Atlantic Salmon (1947)
A Fish Tale of Two States