A FISH TALE OF TWO STATES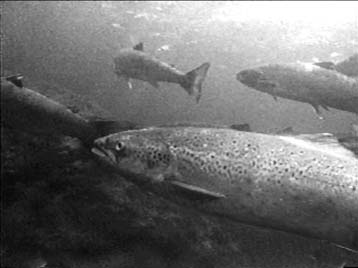 Atlantic Salmon move up a New Brunswick River.
When it comes to wild salmon threatened with extinction, the political leadership in Maine and Oregon couldn't be more different, says the Portland Press Herald 2/27. In Oregon, Gov. Kitzhaber has used salmon as "a lever for accomplishing broader environmental goals," such as cleaning waterways, controlling sprawl, and "improving logging practices." Maine Gov. King, on the other hand, has fought listing every step of the way. As a result, Oregon is working to forge the cooperative relationships necessary to "stave off" extinction while in Maine conservationists worry that the "confrontational tactics" have seriously damaged efforts to save the salmon.
Other Articles About Atlantic Salmon in This Issue
Quisling Rivalry
Atlantic Salmon, Extinction by Politics?
Atlantic Salmon Hearings 
Testimony at Salmon Hearings
Will We Ever Learn: Report of the Commission to study the Atlantic Salmon (1947)