Redwood News Update
by Paul Donahue
Events continue to unfold in the saga to protect the remaining stands of old-growth Coast Redwood in northern California. Over the last past few weeks I have had the opportunity to speak with ex-tree-sitter Julia Butterfly Hill, tree-sitter Nate Madsen, Karen Pickett of the Bay Area Coalition for Headwaters, Joan Norman and Bob Youden of Save the Redwoods/Boycott the GAP, and Jason of North Coast Earth First! about what has been happening.
Julia Butterfly touches ground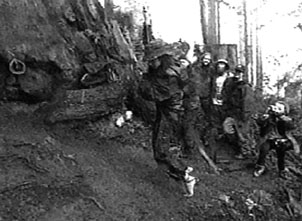 Julia Butterfly Hill touches ground on December 18th, 1999 
for the first time in over two years.
After living for more than two years on a 6 x 8 foot tarp-covered platform high in the ancient Coast Redwood tree known as Luna, Julia Butterfly's bare feet finally touched ground again on December 18th. Before descending, she negotiated permanent protection for Luna and a 200 foot buffer zone around the tree in the form of a legally binding Preservation Agreement and Deed of Covenant. As part of the deal, $50,000 will be paid to Pacific Lumber to make up for lost logging revenue, and the company will then donate the money to nearby Humboldt State University for forestry studies.
Julia's feat of endurance stands as the most remarkable of the many protests against timber cutting in California's ancient redwood territory, where environmentalists and loggers have battled for a decade and a half over the dwindling stands of trees. Standing at the base of Luna, Julia said to the small gathering of supporters and media, "Before anyone should ever be allowed to cut down a tree like this, they should be mandated to live in it for two years." Luna will now stand in perpetuity on the ridge above Stafford, California as a symbol of hope and an example of the power of an individual and of grassroots communities to affect change.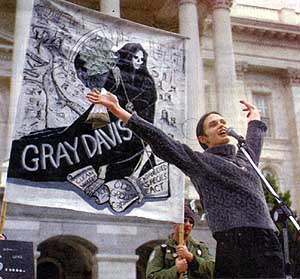 Save the Redwoods/Boycott the GAP activists unfurl their
banner behind Julia at the Board of Forestry hearings 
in Sacramento on January 12, 2000. 
Now back on terra firme, Julia will continue her work with the Circle of Life Foundation she helped form (www.CircleOfLifeFoundation.org) to promote the sustainability, restoration, and preservation of life. In what must have been massive culture shock, she descended into what she describes as a tornado. Her schedule has been very intense, to say the least, with her traveling around the country to give interviews, talks, and testimony, and adding her support to a wide array of environmental and social justice causes.
Part of the magic of the Luna tree-sit is that it reached the mainstream public in a way that has not been done in a long time, due in no small part to Julia's charismatic spirit. For her marathon tree-sit as well as for her ability to speak passionately in defense of the environment, Julia has achieved worldwide renown and near mythic status among many environmentalists. Because of that, her time has been in great demand since she returned to earth, and that situation is not likely to change anytime soon.
Julia testifies at California Board of Forestry hearings in Sacramento in January.
Julia's book on the Luna tree-sit, published by Harper/San Francisco, a division of Harper Collins, is due out the last week of March, at which time she'll be starting a book tour around the country. With a little luck, we hope to be able to have her speak here in Maine in September in support of FEN's sustainable forestry initiative.
Old-growth logging ban
During his gubernatorial campaign in March 1998, California Governor Gray Davis promised that as governor he would ensure that "all old-growth trees are spared from the lumberjack's ax." Since then the Campaign for Old Growth, an association of dozens of environmental, religious and social justice organizations, has been working tirelessly to remind Davis of his promise and encourage him to fulfill it. To date, however, he has ignored his promise and done absolutely nothing to protect the remaining old-growth.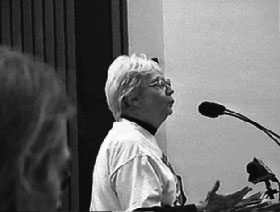 Joan Norman of Save the Redwoods/Boycott the Gap was among the many who testified at the hearings demanding that Gray Davis keep his campaign promise to ban old-growth logging. Since he took office a year ago, he has instead accepted at least $125,000 from the timber industry.
On January 12th the California Board of Forestry rejected an emergency petition filed by the Environmental Protection Information Center and the Campaign for Old Growth that would have halted the logging of old-growth trees. Supporters of the petition gathered by the hundreds at a Board hearing in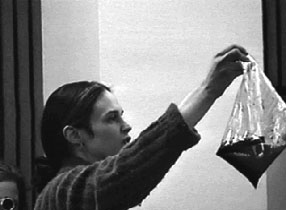 Julia holds aloft a plastic bag of mud from the clearcutting-caused Stafford mudslide that destroyed seven families' homes.
Sacramento. Julia was among the many who testified, holding up a plastic bag of mud from the clearcutting-caused Stafford mud slide. However, the Board was unwilling to take emergency action and instead convened a committee to assess the ancient forest issue, promising to explore closing loopholes that allow unsupervised old-growth logging. Despite these small steps, the general feeling among those present at the Sacramento hearing was that Governor Davis, given a perfect opportunity to keep his campaign promise, once again backed away.
Headwaters preserve
The Bureau of Land Management is expected to release its Environmental Impact Statement for the 47,000 acre Headwaters preserve this spring. Once it is out, the management plan for the preserve will be looked at carefully by the environmental groups concerned. Ideally the area will receive some sort of wilderness preserve designation, but the biggest question is over how much recreation will be allowed. The BLM was originally considering more ambitious recreational development of the area, but backed off after receiving lots of negative public comment.
"Hole in the Headwaters"
The "Hole in the Headwaters" is a 700 acre parcel in the northeast quadrant of the Headwaters preserve that was excluded from last year's Headwaters agreement. Activists are working on several fronts to protect this area, but it is an approved Timber Harvest Plan (THP) and logging could begin within a month or two. If it does, it will certainly mean lots more direct action - tree-sits, lock-downs, and blockades - and whatever else forest activists can do to slow the destruction of what they worked so hard to preserve.
Debt-for-nature swap
Negotiations for a debt-for-nature swap to satisfy the outstanding claims of the Office of Thrift Supervision and the Federal Deposit Insurance Corporation against Pacific Lumber's Charles Hurwitz and the Maxxam Corporation are going very slowly. Their claims stem from the United Savings Assoc. of Texas's 1988 failure, which cost U.S. taxpayers $1.6 billion. If assets other than cash could satisfy Maxxam's debt, i.e. Maxxam's old-growth redwood forests, this swap would achieve greater protection for Headwaters. Ideally what environmentalists would want to get from a debt-for-nature swap would be the most valuable habitat that wasn't acquired in last year's Headwaters deal - Marbled Murrelet critical habitat areas, buffers for the virgin old-growth and, ideally, some of the Coho Salmon habitat.
Nate Madsen and Mariah
There are at least 40 pending THPs in the Freshwater-Elk River watershed where tree-sitter Nate Madsen has maintained his vigil in the redwood Mariah for 16 months. For his second winter in the redwood, Nate has built a second platform about 40 feet lower down. The tree really gets whipped by the wind at the 170 foot height of his original platform. The new platform is low enough so that there is much less sway. However, he was careful not to get too far down in the tree because of the fact that he's been shot at a few times!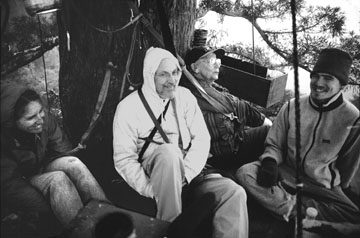 Nate Madsen talks with visitors Teresa Wood, Bob Youden and Joan Norman on his platform.
There is a moratorium on logging in the Freshwater-Elk River watershed in place at present while an analysis of the watershed is completed. But when this moratorium is lifted, probably within a few months time, the flood gates are going to break and all hell will be let loose on the forest. Nate's tree is still threatened under an active THP, and his THP is in the process of being reviewed for completion.
In Nate's words, "The California Dept. Of Forestry reviews approximately 1200 THPs a year, and they approve approximately 1200 THP's per year....How effective, thorough, or in any way meaningful is this regulatory process? The answer, it is a meaningless, ineffective, frivolous waste of time, energy and money....It is time to hold the California Dept. of Forestry and the Board of Forestry....to a higher standard....A standard that preserves our interest and the interests of generations to come"
"It's not possible to run and hide. No matter where we go in this county and region of the world, as well as anywhere else there's forested land, you'll find big timber corporations breathing down the necks of these giant, ancient trees as well as something as simple as a stand of oak.... It's really kind of outrageous - everywhere you turn the forest is disappearing."
"I think that one of the few things that stands between us and a truly sustainable lifestyle is our current economic system. I think that as long as we hold the dollar as our number one goal and pursue economic gain as the primary in all of our decision-making processes, we're going to continue to slaughter our planet in an effort to make a buck. At some point I think the imagination of the people has to prevail and we have to pursue the health of ourselves, the health of society at large, the health of the planet as primary."
Other Articles About California Forests in This Issue
My Love/Hate Relationship With the GAP 
Great News for Sequoia National Forest