RESPECT-RETHINK-REDUCE-REUSE-RECYCLE
by Steve Swift
Originally inspired by Julia Butterfly Hill, the 5R Project is a FEN campaign helping businesses and organizations source forest-friendly paper. We also help recycling efforts, and we publicize green businesses through our website, www.5Rproject.com.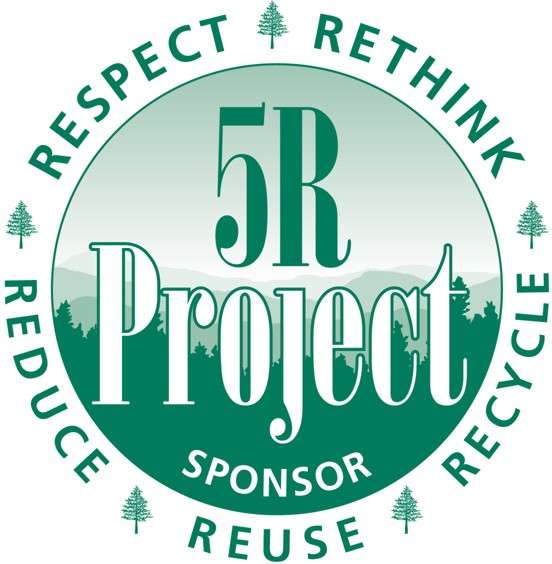 This past summer, thanks to the generosity of Stephen and Tabitha King, we were able to employ Sean Bishop of Waterville as our intern. Sean approached hundreds of businesses from Bangor to Biddeford in a door to door campaign.
Signing up businesses is challenging because most do not recycle. Pick up service to businesses is virtually non existent, so most throw their trash in dumpsters. It is rare for a business to haul their recyclables to the local transfer station. Recognizing and promoting these businesses is what the 5R Project is all about. Our program is simple and straightforward, with minimal paperwork and bureaucracy.
If you would like to meet with business owners in your town to explain how 5R sponsorship will help them and the environment, please contact us! We will provide you with the information and support you need to sign up several businesses. An hour or two a week can make a big difference. We are looking for students, retirees, and anyone with an interest in helping lessen our impact on the planet.
5R PROJECT PLEDGE
RESPECT-RETHINK-REDUCE-REUSE-RECYCLE
This organization has pledged to practice the 5R's and agreed to implement the standards listed below. Our actions, however small, are cumulative and will reduce the use of trees for paper while increasing the demand for forest friendly solutions.
1. Copiers will use recycled paper containing a minimum of 30% post consumer waste.
2. Computer printers will use recycled paper containing a minimum of 30% post consumer waste.
3. A full recycling program will recycle all office paper, plastic, magazines, and cans, when local facilities exist.
Please call Steve Swift at Swift Arrow, 207-872-2078 or email activist@5Rproject.com