Wednesday, October 7, 1998
Aggressive forester to buy huge tract
Related story: New forest owner is real estate trust
Below: Related links
by Dieter Bradbury
Staff Writer
Copyright © 1998 Guy Gannett Communications
Seattle timber and real estate company known for aggressive logging and selling recreational lands to developers will buy
905,000 acres of western Maine forest owned by Sappi Fine Paper North America for $180 million.
Plum Creek Timber Co. said Tuesday it will practice environmentally sound forestry and has no immediate plans to sell any
of the pristine shorelines on Moosehead lake and other popular recreational sites to developers. However, the company has
offered to sell conservation land to the public.
Sappi and Plum Creek are negotiating with the state to sell easements that would protect 64 miles of shore on Moosehead
and Flagstaff lakes and the upper reaches of the Kennebec river.
Environmental groups welcomed the easements. But they said they protect only a tiny amount of land, leaving thousands of
acres of remote, pristine shoreline in the hands of an owner with a record of speculation.
"We think there's ample cause for the public to be alarmed by the arrival of Plum Creek," said Pete Didisheim, director of
advocacy at the Natural Resources Council of Maine. "They're in a position to make a whole lot of money on land that
Maine people love."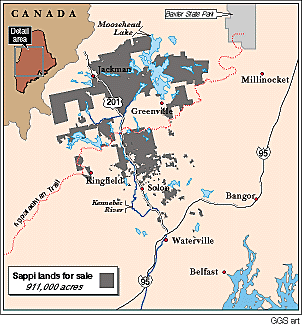 The Sappi lands run from the Quebec border near Eustis to the West Branch of the Penobscot River, and south to Kingfield
and Solon. The forest provides logs for Sappi's paper mill in Skowhegan, as well as an unparalleled recreational playground
for hunters, fishermen, campers and canoers.
Sappi, the South African company that also owns a mill in Westbrook, bought the lands and mills for $1.6 billion only four
years ago. Sappi put the land on the market in June to raise cash to pay down debt.
Rick R. Holley, president and chief executive officer of Plum Creek, said his company wants to buy the land because it has
been well managed by Sappi and represents an excellent investment.
"We think it's probably the best timber property in the entire Northeast," he said.
Holley said Plum Creek will maintain open access to the property and manage it for timber production, as Sappi and the
previous owner, S. D. Warren, have done.
As part of the deal Plum Creek will supply timber to Sappi's Skowhegan mill under a 40-year contract. Holley said that
contract will consume about a third of the wood harvested.
He said the 70 people employed in Sappi's timberland operation will keep their jobs.
Plum Creek hopes to close the sale by the end of the year, pending regulatory approvals. The company already owns 2.4
million acres of forest in Louisiana, Arkansas, Washington, Montana and Idaho, making it the nation's sixth-largest forest
landowner. This would be Plum Creek's first acquisition in the Northeast.
In Montana and Idaho, where the company owns 1.6 million acres, Plum Creek has been selling lakefront recreational
parcels for $240,000 to $6.5 million.
The company advertises the land at its website on the Internet, where color photographs of wooded lakes are displayed with
a quote about Montana from "Travels With Charley" by John Steinbeck.
But Holley said the company has no plans to sell off any of the Sappi lands for vacation homes, camps or other types of
development. He said Plum Creek would discuss selling land to the state for conservation.
"Maine has a lot of special places," he said. "They should probably be in state ownership."
At the same time, however, Holley would not rule out future sales to private developers. "You never say never," he said.
"At this point in time, it's not our plan that we would move in and develop the properties."
Plum Creek and Sappi have offered to sell the state three conservation easements. One would cover 29 miles of shoreline on
the eastern shore of Moosehead Lake, from the Lily Bay area to Day's Academy. The easement, running 500 feet back from
the shoreline, would prohibit development to protect wildlife and scenery.
A second easement would protect 250 feet on each side of the West Outlet of the Kennebec River, running 15 miles between
Moosehead and Indian Pond. The third easement covers land on the northern shore of Flagstaff Lake, overlooking the
state-owned Bigelow Preserve.
The price of the easements was not disclosed, but Gov. Angus King said at a news conference Tuesday the cost will be "in
the millions." The Maine Chapter of The Nature Conservancy has agreed to cover the cost until the state can afford to
reimburse that organization, using money from a future state budget or bond issue.
In an interview, King said the state also wanted to purchase some of Sappi's inland holdings, but was unable to reach an
agreement. He said he wanted to pursue the acquisition of more land from Plum Creek.
Montana Gov. Marc Racicot, in a letter to Gov. King, praised the company's performance in that state.
"Plum Creek is recognized in the Northwest for its commitment to innovative, science-based environmental practices, which
justify the company's claim to being a national leader in forestry management," Racicot wrote.
He said the company has a record of placing key Montana lands in conservation, and "will be an immediate and welcome
addition to the corporate community in Maine."
King said he had spoken with Racicot at length and was reassured by his comments.
However, King noted that Plum Creek has "a somewhat negative reputation from the late '80s," when it engaged in heavy
logging on its lands in the West and came under fire from environmentalists and other critics.
King said the company would be judged in Maine by the quality of its forestry and land stewardship here.
Several environmental groups praised the easements offered by Sappi and Plum Creek but said the measures fall far short of
what is needed to protect the remote, semi-wilderness quality of the northern forest.
Didisheim, at the Natural Resources Council of Maine, notes that Sappi gets 40 years worth of logs from Plum Creek, while
the state gets conservation protection for just a few thousand acres.
"Sappi will be extracting the value of the timber and Plum Creek will be extracting the value of the real estate. You've got to
wonder what Maine people will get out of this deal," he said.
Sandy Neily, a staff member at Maine Audubon Society, urged Mainers to pressure public officials for more land
conservation funding, and to be farsighted about the changes that may take place in the woods.
"We need to make sure when our grandchildren go there 100 years from now, they don't see a whole series of gates and
'No Trespassing' signs," she said.
The Maine Chapter of the Sierra Club said Plum Creek would log the woods too aggressively and eventually sell waterfront
and other valuable recreational lands for development.
"We can no longer allow Maine's North Woods heritage to be jeopardized by the relentless push for corporate profits," said
Carole Haas, the club's forestry chairwoman.
Holley, the Plum Creek president, said he is confident the company can function well in Maine, despite the controversy that
simmers around timberlands development and other forest issues.
"We've had to deal with lots of environmental issues over time," he said. "I think our environmental record is stellar, as far
as probably being the leader in resource management in the entire country."
Plum Creek Timber has a news statement announcing the sale on its Web site.
Hoover's Online has a company capsule on Plum Creek.
The Motley Fool has a message board dedicated to Plum Creek's investment potential.
The Seattle Times has articles and editorials on Plum Creek archived since Feb. 1, 1996. Recently, the Times has
covered the timber company's involvement in federal land exchanges.
The Cascade Checkerboard Project is an effort by the Washington Chapter of the Sierra Club.
In 1997, Sappi Ltd., as its local affiliate S.D. Warren, made number four on a list of Maine's largest timberland
owners in Maine Business Online.
The Nature Conservancy has offered to help finance easements along the Kennebec River, Moosehead Lake and
Flagstaff Lake.
PaperAge Magazine is the leading magazine for global manufacturers and converters of pulp, paper, paperboard and
recycled paper.
Pulp &Paper has a site with links to its magazines, newsletters, market reports and factbooks and profiles of companies in the business. A Maine Business Online list from May, 1996 detailing the state's largest papermakers, and from January 1997, the state's largest timberland owners.
The Paper Industry Management Association has a site with a manager's Clip Service, and news briefs, to help industry managers keep up with the latest information. Pulp and Paper.Net is another online service for keeping current with the paper industry, with industry news, information about suppliers and products, news and a jump list to show you what else is out there on the Web.
to top
New forest owner is real estate trust

Wednesday, October 7, 1998

by Tux Turkel
Staff Writer

Copyright © 1998 Guy Gannett Communications

The new owner of 905,000 acres of Maine woodlands is a rapidly expanding forest products company, but it won't own any paper mills here. What Plum Creek Timber Co. will do is manage the acreage in ways that maximizes long-term income for investors, by selling fiber, logs and, occasionally, land.

As an institutional investor that grows trees as a way to grow shareholder profits, Plum Creek represents a new model for ownership of timberland in the United States.

To help meet its objectives, Plum Creek often sells or exchanges land that is worth more when used for purposes other than growing trees. That means waterfront land that is less appealing for tree harvesting could be sold over time to government agencies, conservation groups or developers.

"From time to time," said Rick Holley, Plum Creek's president, "there may be land we sell because it makes sense for the company."

Plum Creek is also converting its corporate structure from a limited partnership to a real estate investment trust, or REIT, a move that will allow it to attract more investors.

REITs manage portfolios of real estate to earn profits for shareholders. Usually they are publicly traded.

That change to a REIT also represents a first among forest owners. "Our goal in life," Holley said, "is not only to be the first timber REIT, but the most successful timber REIT ever."

Plum Creek is an integrated forest products company, meaning it owns related operations in addition to forest land. These include six sawmills, three plywood plants and plants that produce fiberboard and wood chips.

Based in Seattle, the company has its roots in the Northwest. But in the past two years, it has been expanding, first into Louisiana and Arkansas and now Maine. By buying 905,000 acres from Sappi Fine Paper for $180 million, Plum Creek will boost its U.S. holdings by 30 percent, to 3.3 million acres. That will make it the sixth largest private timberland owner in the country.

A real estate trust such as Plum Creek differs from the paper companies Mainers are most familiar with. It uses timberland as a stable, long-term investment that can help diversify financial holdings and produce good returns when other investments, such as stocks, are going through down cycles. That, plus important tax advantages, can make the trust attractive to large institutional investors, such as mutual funds.

If Plum Creek can attract such investors, it will be able to raise more money and buy more strategic forest property that can yield a good income. That is how the company plans to grow.

Plum Creek had a good financial year in 1997. Its total revenues last year reached $726 million, a record for the company. Total return to investors last year was 24 percent. Strong cash flow of $145 million allowed the company to increase its quarterly cash distribution to investors by 8 percent last year, from 51 cents per share to 55 cents.

But the financial picture hasn't been as rosy in the first half of 1998. Earnings are down and the second quarter cash distribution was held at first quarter levels of 57 cents. Plum Creek blames the weak Japanese economy for a drop in demand for logs and lumber. No real improvement is expected for the rest of the year.

Over time, Plum Creek hopes its expansion into Maine can help smooth out economic downturns. Paper and lumber markets in the Northeast could be stronger, for instance, when demand has dropped off in the Northwest. Plum Creek estimates that its Maine purchase will boost its annual cash flow by $15 million. "It helps diversify our holdings," Holley said of Maine.

Analysts who pay attention to Plum Creek say the Northeast has become a more attractive place for timberland investment, because of heavy competition in the South and Northwest.

Paula Nicholls, an analyst with D.A. Davidson & Co. in Portland, Oregon, said Plum Creek's expansion into Maine should be good for both the company and those concerned with forest management practices. Raising fiber and saw logs as a long-term investment generally requires harvesting for a sustained yield, she said, which results in less clear cutting.

"They need to provide a consistent return for their investors," Nicholls said.

Plum Creek estimates that its Maine purchase will boost its annual cash flow by $15 million. In 1996, Plum Creek sold 11,700 acres along the Blackfoot River in Montana to The Nature Conservancy. Last year, it sold 3,500 acres to conservation groups and developers, for nearly $18 million in revenue. It also exchanged a total of 31,185 acres of land with the U.S. Forest Service.

Holley said he expected only a small percentage of Maine land to be sold or exchanged. But he didn't rule out the sale of waterfront land for subdivision or vacation home development.

"That's an option," he said, "we will always keep open."
Bloomberg News contributed to this report.
to top