FEN Educational Programs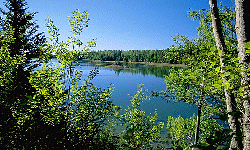 The Forest Ecology Network is dedicated to educating the public about the importance of maintaining the native forest environment, and how responsible forestry can extract high quality wood while protecting the aesthetic and ecological integrity of the forest.
To acheive this goal FEN works in several areas:
The publication of The Maine Woods, FEN's newspaper
Outreach presenatations at schools and at civic group meetings
Distribuing educational materials, like the ones described below, to teachers and policymakers throughout the state
Publishing Maine Environmental News, an independent environmental education newsletter, to high school science teachers throughout the state.
Essential Resources for Learning About Forest Issues
Beyond the Beauty Strip: Saving What's Left of Our Forests by Mitch Lansky. Tilbury House, 1992. 453 pp. $19.95. ISBN 0-88448-094-1.
"In Beyond the Beauty Strip, Mitch Lansky shatters the myths surrounding current forest management practices, the false 'jobs vs. the environment' dichotomy, and that 'what is good for the industry is good for communities.' This book should be required reading for anyone who cares about the northern forests of the U.S. and the people whose lives and futures depend on them." - Susan Meeker-Lowry, author, Economics as if the Earth Really Mattered.
"Every forest protection activist in America and around the world MUST get a copy of this book immediately -- it is an essential resource for any discussions on forest management for years to come." - Carl Ross, Director, Save America's Forests.
The Paper Colony. A documentary video produced by Doug Hawes-Davis. Ecology Center Productions.
It is important that everyone involved in the debate over the future of the Maine Woods see this video. Seeing the reality of the clearcuts and destruction left in the wake of industrial forestry is critical to a realisitic appreciation of the problem. Interviews with policy makers on both sides of the issues, as well as conversations with citizens outside of the fray, are interspersed with sickening panoramas and overflights of huge clearcuts and logging operations. The Paper Colony throws open the curtain of 'greenwash' PR campaigns, beauty strips, and deception put up by industry to cover the truth.
Note: Both Beyond the Beauty Strip and The Paper Colony are available through the FEN office for a substantial discount off the cover prices. Contact us to order copies.
The Northern Forest Forum is the premier journal of activism and forest policy in the north woods. Published by the Northern Appalachian Restoration Project, this bimonthly tabloid's goal is to "work for sustainable natural and human communities." It offers the work of the best writers, artists, and poets on the issues in a thorough, thoughtful, and non-compromising way. Yearly subscriptions are $15 to The Northern Forest Forum, POB 6, Lancaster, NH 03584.
---
FEN Home Page
/ Join FEN /
Email FEN
Forest Ecology Network
283 Water Street, 3rd Floor, POB 2118, Augusta, Maine 04338. Phone 207-623-7140. Fax: 207-623-7512
---