Boycott the Gap!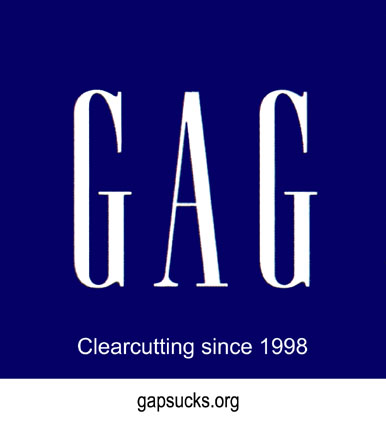 In 1998 the Fisher family, founders & executives of the Gap, Banana Republic and Old Navy clothing stores purchased nearly 25% of California's Mendocino County from Louisiana Pacific Corporation. The Fishers' timber company, Mendocino Redwood Company (MRC), is clearcutting, spraying herbicides, and logging the last of the old growth trees on 230,000 acres of severely depleted Redwood forest in Mendocino and Sonoma Counties. MRC logs through the winter rainy season to get their profit out in a hurry. Muddy roads and landslides during the wet winter months are especially harmful to the threatened Coho salmon.
Donald Fisher is Chair of the Board of Gap, Inc. Bob Fisher, Donald's son, is Executive V-P and Chief Operating Officer of Gap, Inc. The purchase of L-P forests and mills is described by the Mendocino Redwood Company as "a Fisher family investment." MRC is owned and controlled by the Fisher family through an investment group called Sansome Partners. See: www. mendocinoredwoodco.com.
"The Gap," notorious for its exploitation of workers in Third World countries, is now exploiting its workers in the Redwood Forest. Clearcutting is dangerous and provides no job security. Not only does "cut and run" forestry damage the forest, it uses less labor and leaves less forest to cut. Spraying herbicides is a severe health hazard to the workers, who carry the stuff on their backs in steep terrain and breathe the poisons. They bring these carcinogens home on their clothes, exposing their families. Local residents are also exposed, and the rain washes the poison into streams, harming fish and water supplies.
The Coast Redwood forest, and its dependent communities of people and wildlife, already hammered by years of "liquidation logging," will not recover from this on-going assault. It must be stopped while there is even a shred of ecosystem left.
Now you can help protect this forest ecosystem with one simple act: BOYCOTT the Gap, Banana Republic, Old Navy, and Gap Kids stores until the Fisher family agrees to...
stop logging the last of the old growth trees
stop clearcutting
stop all winter operations
stop spraying herbicides that sicken workers, neighbors and wildlife, and that poison the water and soil
withdraw the worst of their logging plans and begin discussions with local groups to establish a recovery program for these seriously damaged forests
Write to the Fisher Family, c/o Bob Fisher, Executive Vice President and COO of the GAP at GAP, Inc. 900 Cherry Ave., San Bruno, CA 94066, and tell them you won't shop their stores until they protect the forest.
For more information contact Save the Redwoods/Boycott the Gap at www.gapsucks.org.