The Maine Woods

A Publication of the Forest Ecology Network

Volume Five Number One Late Winter 2001
FEN Board President Steve Swift Steps Down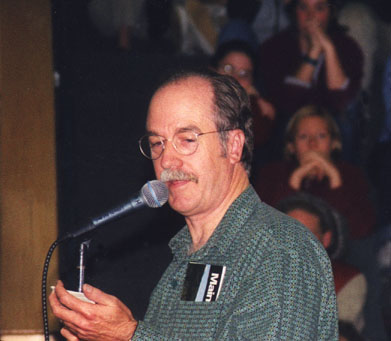 Former FEN president Steve Swift introducing Julia Butterfly Hill at the Patagonia outlet store in Freeport in late October. Photo by Teresa Wood.
After three and a half years as the president of FEN's board of directors, Steve Swift stepped down from the position this past December. While Steve will remain active in FEN's various campaigns, he leaves the board to give himself the time to pursue other goals. One of his very worthy and promising new endeavors is the 5R Project (see article in this issue), an undertaking that could lead to significant conservation gains. We thank Steve for all his hard work over the last three and a half years and wish him the best of luck with the 5R Project and other future endeavors.
next page
---
---

283 Water Street, 3rd floor, P.O. Box 2118, Augusta, Maine 04338
phone: 207-628-6404
fax - 207-628-5741
email: fen@powerlink.net
---
Contact webmaster at meenviro@nemaine.com with problems or suggestions regarding these pages.