Maine Woods National Park Builds Momentum and Sparks Debate
by Jym St. Pierre and Beth Wheatley
The proposed Maine Woods National Park has become one of the most talked about conservation issues in Maine during the past several months. Here is why.
Most Mainers support creation of Maine Woods National Park!
In July, the Sierra Club released the results of a statewide public opinion survey which showed more than 60% of the voters in Maine support creation of a Maine Woods National Park. A second survey released in September by a consortium of newspapers and television and radio stations in Maine found a comparable level of support for the national park. In fact, over the past several years every statistically valid poll on this issue has documented that a majority of people throughout the state are favorable to the Maine Woods National Park concept.
A river within the area proposed for the Maine Woods National Park.
 Photo by Paul Donahue.
Lawn signs highlight road to the park!
This past summer, in cooperation with two Maine Woods National Park Coalition members - Friends of the Earth and Forest Ecology Network - RESTORE sponsored a new outreach activity we called Road to the Park. Green and white lawn signs listing the mileage to the proposed Maine Woods National Park appeared in front yards throughout Maine. The lawn signs caused visitors to stop and ask, "Is this park real?" The signs alerted tourists about the proposal to create America's next great national park in northern New England. Meanwhile, Mainers began to think once again of the future of the Maine Woods and the very real possibility of protecting the Katahdin-Moosehead region as a new national park. Thank you to Steve Swift of the Forest Ecology Network and park coalition summer intern Katherine Randall for their incredible work on this project.
New park business partners sign on!
On Saturday, July 8, park activists fanned out across Portland, Maine, to recruit nearly 50 new Maine Woods National Park Business Partners. This successful event was a partnership between RESTORE, Forest Ecology Network and Friends of the Earth. Further north in Bar Harbor, Ryan Shaffer, RESTORE's summer Maine Woods Visitor Center Coordinator, signed up 10 more businesses which endorse the park proposal. There are now over 350 businesses in Maine and across the country supporting efforts to create a Maine Woods National Park.
Cycling 500 miles raises awareness of the park!
In September, we brought the hopeful news of the proposed Maine Woods National Park to communities across the Northern Forest through an event we called Pedal for the Park. RESTORE staff member, Beth Wheatley, cycled over 500 miles from the Adirondack Park in upstate New York, across Vermont and New Hampshire, to the shore of Moosehead Lake in the proposed Maine Woods National Park. She partnered with several conservation organizations to give park presentations in Saranac Lake, Burlington, Montpelier, St. Johnsbury, Pinkham Notch, Portland, and Belfast. Beth also stopped to talk with people informally along the road, leading several enthusiastic cyclists to join her for portions of the ride. Articles on the bike trek appeared in newspapers in each of the four states.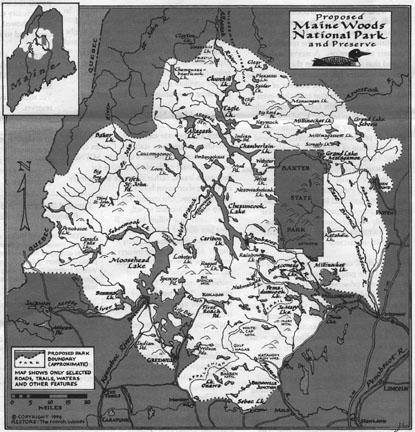 Maine Woods Visitor Center opened for 6th Season!
Thanks to the continuing generosity of Charles FitzGerald, a RESTORE Board member and Maine Woods National Park Business Partner, our Maine Woods Visitor Center in Bar Harbor was open for another successful season from late June through October. Visitor center coordinator, Ryan Shaffer, reached thousands of people from across the country with the idea of creating a grand new national park in northern Maine.
Large land sales have created both opportunity and uncertainty!
During the past two years, over five million acres of timberland in the Northern Forest region, mostly in northern Maine, have been bought and sold in a handful of large scale deals. This extraordinary fire sale has provided an unprecedented opportunity for the public to acquire important wildlands at bargain prices. Have we? Not much. The Nature Conservancy has acquired some wonderful tracts in the St. John watershed in northwestern Maine. And several individuals have purchased and preserved several key smaller tracts of forest. But millions of public and private philanthropic dollars are being spent on easements rather than full public acquisitions. Those easements provide some public value and are a useful tool. In the short term, for instance, they can help relieve development pressures on some vulnerable lands. However, we still need full public ownership of the most important lands. Ten years ago the Northern Forest Lands Study concluded that the wildlands of northern New England and New York are of national significance. A national park is the best way to preserve such nationally important lands.
Outreach in gateway communities
In early August, RESTORE staff spoke to the Greenville Economic Development Committee about payments in lieu of taxes within national parks. That led to an invitation by the town to participate in a larger public session on the park proposal. The second meeting, at the end of August, turned out to be a lively event. RESTORE Executive Director Michael Kellett and Maine Director Jym St. Pierre presented the Maine Woods National Park proposal and answered questions from many of the approximately 300 people in the audience. Fired up by the recent public polling results, private property advocates decided to use the opportunity to organize vocal opponents from around the state. During the second half of the meeting several dozen people voiced questions, concerns and opposition to the park idea. Park supporters in the audience decided not to shout back because of the highly charged atmosphere.
The emotional August 31 Greenville meeting affected some other outreach efforts, too. Right after Labor Day, a meeting with the town manager of Millinocket, another potential gateway community to the proposed Maine Woods National Park, provided an excellent exchange of ideas. However, soon after that opponents began lashing out at the park proposal. In September, we cancelled a couple of presentations because of threats of disruption, heckling, and possible violence. In October, Millinocket staged a one-sided debate on the park proposal. We declined to participate because it was not a fair forum with a neutral moderator and an honest chance to present factual information about the park proposal. Opponents have also been asking towns and counties across Maine to endorse resolutions opposing the park idea because, they claim, it would hurt the local and state economy. In response, we are using solid information from other national parks to show that protecting land can have enormous economic benefits.
Skepticism about new ideas is natural and local resistance to national park proposals is no exception. Virtually every park established in the past century initially has encountered opposition largely driven by special interests who believe they have a good deal going and do not want that challenged. We have consistently said we are interested in meetings with anyone who wants to have a constructive and respectful discussion about the park proposal, whether or not they agree with it. Moreover, we will continue to press for a full, fair airing of the environmental, economic, and social benefits and costs of the Maine Woods National Park idea through a public feasibility study.
For more information contact RESTORE: The North Woods at http://www.restore.org/