Julia Butterfly Hill Visits Maine
by Paul Donahue and Steve Swift
This past October Mainers were honored with a visit from environmental activist and former tree-sitter Julia Butterfly Hill. Julia has been on an extremely busy and energetic speaking schedule since descending from Luna in December 1999. She came to Maine for two days shortly before the election to show her support for FEN's "Yes on 2" sustainable forestry referendum campaign and our signature collection drive for another referendum on pesticide use in the forest.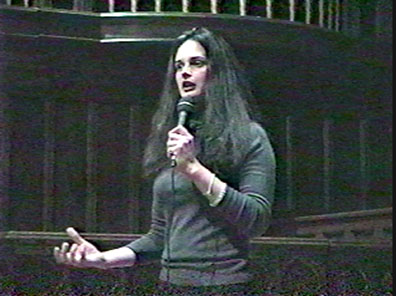 Julia Butterfly Hill speaking to a standing room only audience at Bates College Chapel in Lewiston on October 27th.
In the brief time she was here she gave a press conference in Portland, an interview at The Maine Times, and two speaking presentations. On the evening of October 26th she spoke to a packed crowd at the Patagonia Outlet Store in Freeport, and the following evening she spoke to a standing room only audience at the Bates College Chapel in Lewiston. She also found time to meet with FEN board members to share her ideas on how to increase FEN's effectiveness and base of support.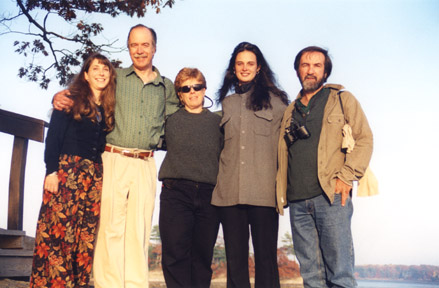 Julia and her assistant and travelling companion Claudia Thompson get to see a bit of the Maine coast at Wolf's Neck State Park in Freeport, along with Tina and Steve Swift and Paul Donahue. Photo by Teresa Wood.
I was priveleged to be able to visit Julia in Luna twice during her two-year tree-sit. I still vividly remember my first encounter with her. Having arrived on the press platform 100 feet up in Luna, I was still clipping myself into a safety line when Julia surprised me, silently appearing on a branch above and welcoming me to the tree. As I turned to look at her I was immediatedly struck by a very eerie sensation that I was encountering an extremely powerful spirit. During my interview with her over the next hour or two that feeling just continued to grow.
By the time I left Luna it was clear that this was a woman who was destined to have a profound influence on the environmental movement. Already the ripples were spreading. I have since witnessed the impact she has on people from all walks of life. The ability to motivate like-minded environmentalists is not an especially rare skill, but the ability to be able to reach out and touch people who have never before seriously contemplated environmental issues is a rare talent indeed. I have listened to many environmental speakers over the years, but I have never seen one that has as strong an impact on an audience as does Julia. Both nights she spoke, in Freeport and in Lewiston, there were damp eyes throughout the aduience, and when she finished the standing ovation went on for many minutes.

I feel very fortunate that we were able to get Julia to come to Maine, and hope we will be lucky enough to get her back some time in the not too distant future.
- by Paul Donahue
Search engines list thousands of websites with articles, stories, and photos about Julia Butterfly Hill. The stream of information about Julia, from her biography to music written for her, fills cyberspace. Certainly, Julia has captured the minds of millions, and the hearts of many, plus even those who hang on every word she speaks. How has the celebrity status affected her? What is she really like? Since it was my job to drive her around Maine for three days last October, I figured I'd learn more about the person I'd grown to know through letters and phone calls over the past two years.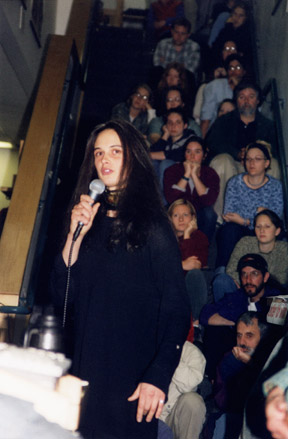 Julia speaks to a packed crowd at the Patagonia outlet store in Freeport on October 26th. Photo by Teresa Wood.
Julia came to Maine at the invitation of fellow activist Paul Donahue, who makes a living high up in the canopies of giant trees, painting birds and building canopy walkways for eco-tourists. Paul had heard about Julia's tree-sit, so he and his partner Teresa Wood ascended into Luna to meet Julia, who at that time was not known world-wide, but was starting to make very big waves reminiscent of Greenpeace stories years ago. Julia's story was different for a lot of reasons. First, it wasn't a single act of bravery. Hers was a daily exercise in determination: surviving, in a very literal sense, blowing winds that turned her platform into an aerial bucking bronco. The worst winter in California history, threats on her life - you name it, she endured it. Yet the thing that made Julia's story so interesting was that she didn't carry a chip on her shoulder, or talk in envirospeak, or sound like a kook. That's important because if she had, her words would not have reached the mainstream. The legend of Julia Butterfly Hill was heard in the hearts of schoolchildren and their teachers. The readers of People, Good Housekeeping, and Cosmo were relating to her pure eloquence in plain speech. It didn't hurt that she was so photogenic, with her hippy-ish good looks and long black hair that blew in the breeze. But it was her words that carried the message of peace and personal responsibility that we discovered was her essence. What she said resonated in our heart of hearts, and Julia's occupation of Luna became the metaphor for the good vs. evil struggle, played out on the world stage. It was 1969 all over again, and for those of us old enough to remember, it was a reminder of those times and our commitment.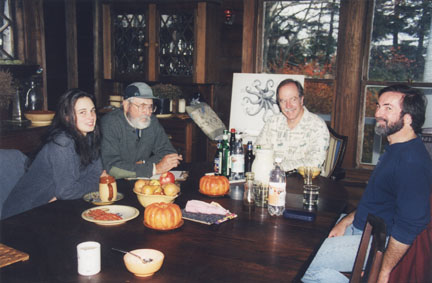 Julia Butterfly Hill shares her ideas with FEN board members Geoprge Appell, Steve Swift and Paul Donahue on how to increase FEN's effectiveness and base of support. Photo by Teresa Wood.
What were the effects of Julia's visit to Maine? We did not win the referendum campaign, but we signed up dozens of volunteers to collect signatures at the polls. When she spoke at the events, Julia reminded listeners that we have been conditioned to give our power away. When we become focused on Julia's life instead of our own, we forget the hero that lives within each of us. It's a mistake to think, "she's done so much, so what I do doesn't matter." During the Presidential Campaign, Green Party activists were always explaining why a Bush victory would energize the grassroots. People would see that they couldn't rely on their hero Al Gore to watch out for the Earth. So it is with Julia Butterfly, "I'm just a person," she reminded us. First things first. It's all about us, individually. If we put Julia on a pedestal, we miss the point. The evening before Julia left, I asked her about using recycled paper at my business, a jewelry wholesale company. The paper, I complained, was double the price of virgin bleached paper. "It would be better," she said "instead of giving a percentage of profits to environmental groups, to buy 100% post-consumer waste paper with the money." She went on. "You could let you customers know about the paper you are using. And it's really not as expensive as you think." Then she gave me information for finding paper sources. The morning Julia left, low fast moving clouds and a chilling wind blew across Casco Bay, the warning signs of the cold rain and snow in the weeks ahead. As we drove north, an eagle flew overhead in Cumberland, then another in Topsham. The next time I heard from Julia, Lund had been attacked and nearly cut down. It hurt to see the photo of Julia on her knees beside her ancient friend. The sorrow and pain on her face made me turn away from the newspaper. It seemed cruel to me, showing my friend hurting so badly, like the photos you see from wars or traffic accidents. The loved ones' faces haunt us with their anguish. It was media coverage I could have done without.
Julia's effect, and our effect as individuals are impossible to measure. Julia speaks about "planting seeds." Sometimes flowers come, sometimes more weeds, and sometimes they lay dormant. Just as we remember a lesson learned from an adult's words or actions many years ago, the deeds, words, and even thoughts we have today affect the world. Thank you, Julia for reminding me of that and for your visit to Maine.
- by Steve Swift
For an idea of the impact that Julia has had on young people see the essaysin this and past issues of The Maine Woods:
and also the website http://watchic.net/shannon/julia.html
Also see in this issue:

and in past issues of The Maine Woods see: