Rainforest of the Western Amazon
The rainforests of the western Amazon Basin are the most biologically rich terrestrial environment on the planet. The diversity of plant and animal life reaches its peak here in these forests along the eastern base of the Andes. The rainforest of southeastern Peru is a particularly fine example of this environment and is the least disturbed area of forest remaining in the Amazon.
Not only does most of the primary forest remain intact, but the forest still has its full complement of large birds and mammals, a sure sign of the lack of disturbance. Tapirs, peccaries, Jaguars, Giant Otters, monkeys, and large macaws - species that quickly disappear in areas that are regularly hunted - are still found here in good numbers. The birdlife is particularly rich in this area. Manu National Park alone contains over 1000 species of birds, and at most sites in the lowlands 500-600 species of birds can be found within a five mile radius.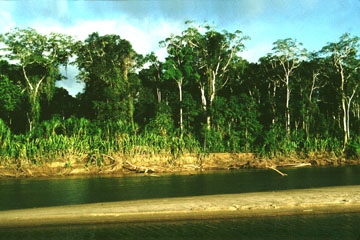 Lowland rainforest along the Rio Manu of southeastern Peru.
FEN board member and The Maine Woods editor Paul Donahue has spent 15 seasons studying the birds of this area and has led many natural history and birding trips there. Now FEN is considering offering a trip to this area in the summer of 2001 led by Paul and FEN director Jonathan Carter. This is a new sort of undertaking for FEN, so please let us know if such a trip is something that might interest you.