What Will Be Next - The WTO's Anti-Environmental Record
The WTO has a perfect anti-environmental record. Every environmental law
challenged before the WTO has been found to be an unfair trade barrier: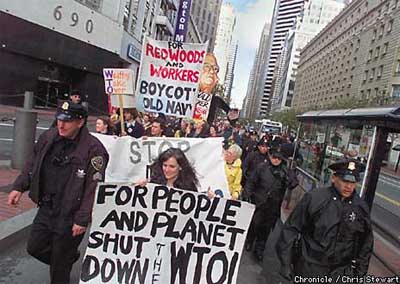 WTO protest in San Francisco, November 20th, 1999.
· A provision of the U.S. Clean Air Act governing reformulated
gasoline was declared WTO-illegal. In response, the Environmental
Protection Agency has changed its regulations to allow imports of
Venezuelan gasoline with high concentrations of certain
pollutants.
· The sea turtle protections in the U.S. Endangered Species Act
were found to be an unfair trade barrier. The Act prohibited
imports of shrimp from countries that do not require their shrimp
fleets to use turtle excluder devices or comparable protections
for sea turtles. The United States is exploring ways to modify the
U.S. requirements.
· The European Union's ban on hormone-treated beef has been deemed
WTO-illegal. When Europe refused to rescind its ban, the WTO
authorized the United States to retaliate with $120 million in
trade sanctions.
Other Articles About the WTO in this Issue
Global Free Logging: Defend Our Forests - Clearcut the WTO 
This Is What Democracy Looks Like - The WTO Protests in Seattle 
Top 10 Reasons to Oppose the World Trade Organization