Public Responds Overwhelmingly in Support of Roadless Area Conservation Rule
ABOUT THE RULE
The Bush Administration is attempting to undo the Roadless Area Conservation Rule, which would:
keep 58.5 million acres of national forest land wild
preserve habitat for wildlife
protect clean water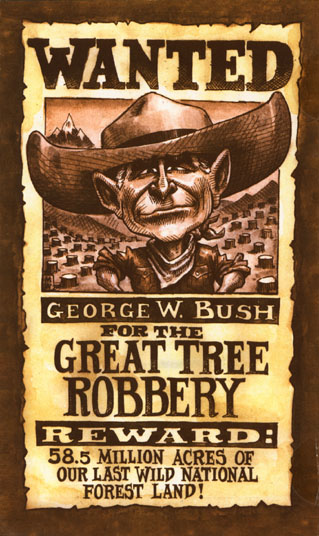 More than 800,000 comments were submitted to the Forest Service by the September deadline in support of protecting our last remaining National Forest roadless areas, according to preliminary estimates. The comments were sent in during a 60-day public comment period initiated from the Bush Administration's attempt to reverse the Roadless Area Conservation Rule, in an Advanced Notice of Proposed Rulemaking (ANPR). During a September 10th press conference in Salt Lake City (where comments were to be sent), more than 500,000 comments were delivered to the Forest Service in support of the Rule.
The Administration's ANPR did not propose specific amendments to the Rule, but asked the public for input on ten questions that primarily revisited myths generated by a small, special interest minority of logging, mining, and oil and gas industries that oppose roadless area protection.
To date more than 2.4 million comments - over10 times more than have ever been submitted for any rule in Federal rulemaking history - have been received by the Forest Service on this issue, a solid majority of them in support of roadless area protection. Clearly the public remains resolute in their support of protection for the last 30 percent of wildlands on America's National Forests.
Participatory democracy formed the outcome of the Roadless Rule, affirming the value of public opinion in the management of our public lands. Protection of our last pristine forests is a proud accomplishment for all Americans. It confirms a vision held by both our leaders and our citizens that honors the future generations and their need for open space and wild places.
Many thanks to all who responded to this latest comment period with your steadfast support of the Roadless Area Conservation Rule.
NEXT UP
On October 15, a hearing will be held on the Ninth Circuit Court of Appeals on environmental intervenors' appeal of Judge Lodge's May 10th preliminary injunction blocking implementation of the Roadless Rule, in a court case brought against the Rule by the state of Idaho and Boise Cascade Corporation.
In addition to the Idaho lawsuits, seven other lawsuits have been brought against the policy by western states and their friends in the timber and oil industries.
Under increasing influence of those same corporate special interests, the U.S Forest Service has issued two interim directives, both of which appear to be moving the fate of roadless protection back into the control of individual forest managers. Comment periods on these directives end on October 22 and November 19 respectively.
For further information and updates see the website of The Wilderness Society