The Mt. Blue/ Tumbledown Conservation Project -
A $1.8 Million Fundraising Campaign

By Pamela Prodan
In western Maine, acquisitions in the Mt. Blue/ Tumbledown Conservation Project are underway. At this time, Tumbledown Conservation Alliance, the State of Maine and Trust for Public Land are seeking public and private financial support at all levels and must raise $1.8 million in private matching contributions by December 2001. To succeed with this conservation effort and to insure that critical lands will be purchased, we need your support now.
Trust for Public Land, a national nonprofit land conservation organization, currently has 19,400 acres of land in the Weld, Maine region under agreement. Partners in the project have committed to an ambitious fundraising effort to purchase and permanently protect 30,000 acres through a combination of public fee ownership and conservation easements.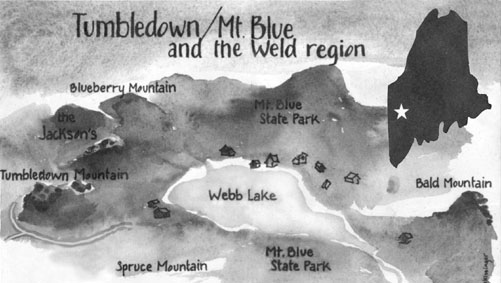 The Mt. Blue/ Tumbledown conservation project is a window of opportunity in the face of large-scale changes in land ownership and land use in the Weld region. Within the past two years, over 20,000 acres of forest land in the region went up for sale, raising fears that increased fragmentation of forest land and residential development would occur. Since then, much of that land has been resold. A key piece adjoining Mt. Blue State Park was cleared for residential development. The wood was taken off a 4,000 acre parcel near the Tumbledown trail head and the owner is proposing to divide it into 40-acre lots. As recently as this summer, additional lands identified by TCA for conservation have gone on the market.
Despite the fact that Mt. Blue State Park is the largest park in the state park system, many people are surprised to learn that only two of the region's many popular hiking trails are actually in the park. This nationally popular yet unspoiled area is rated by Outside Magazine as one of the country's 10 top areas for a family vacation. Tumbledown Mountain, all of which is privately owned, appears on the web site of the Maine Office of Tourism alongside the great publicly-owned hiking destinations of Maine, including Acadia, Baxter State Park, Grafton Notch State Park, Camden Hills State Park and Bigelow Preserve.
In addition to protecting traditional day hiking opportunities, the proposed acquisitions would make a valuable contribution to safeguarding the state's natural heritage, according to the Maine Natural Areas Program (MNAP), which conducted a limited ecological assessment of the project area last year. The project area falls within two large contiguous blocks of forest land in separate ecological regions of Maine. One 60,000+ acre block, including Pope and Hurricane Mountains, is the largest block within the Western Foothills ecological region that is unfragmented by roads and development.
The other 80,000+ acre block lies within the Mahoosuc/Rangeley Lakes ecological region and includes the popular recreational trails on Tumbledown, Little Jackson, and Blueberry Mountains. The mountains have exemplary natural communities, including acidic summit, alpine ridge, krummholz, prominent cliffs, talus and acidic cliff communities and high elevation ponds. The mountain range is home to Bicknell's Thrush, Long-tailed Shrew, and Spring Salamander and is one of only a few sites in Maine where Peregrine Falcons have nested successfully in recent decades.
For more information see the Tumbledown Conservation Alliance's web site at www.tumbledown.org or contact Pamela Prodan at 207-645-9330. Matching private donations can be sent to the Tumbledown Conservation Alliance, P.O. Box 24, Weld, Maine 04285. Checks need to be made out to Trust for Public Land/Tumbledown Project. Thanks for your support.