The Maine Woods
A Publication of the Forest Ecology Network
Volume Five Number Two Late Fall 2001
Equipment for low tech, low impact, sustainable
forestry for use with ATVs.
by George Appell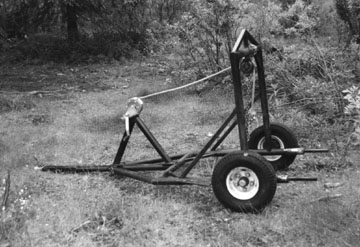 On the west coast of British Columbia loggers are pulling the above trailer with their ATVs to haul out large logs. Logs are winched up by the cradle to balance off the ground. This prevents the soil destruction and forest damage that occurs with skidders. For longer logs, another trailer is added to the far end. Does anyone know whether the use of this kind of equipment has been used in Maine?
next page
---

---

P.O. Box 2118, Augusta, Maine 04338
phone: 207-628-6404
fax - 207-628-5741
email: jonathan@forestecologynetwork.org
---
Contact webmaster at editor@forestecologynetwork.org with problems or suggestions regarding these pages.