The Forest Ecology Network Bookshelf
The Wilderness from Chamberlain Farm - A Story of Hope for the American Wild
by Dean Bennett with Forward by Stuart L. Udall
Cloth - 359 pages
2001
Island Press ISBN: 1-55963-729-3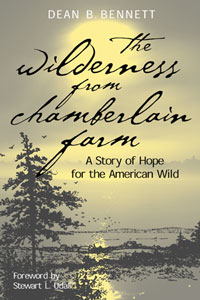 The Wilderness from Chamberlain Farm offers a compelling analysis of changing values toward nature and wilderness in America. The values are revealed in the history of a remote piece of land deep in the Allagash wildlands of northern Maine. Here a small point shelters a shallow cove along the shore of an expansive lake. Used as a campsite by indigenous peoples for thousands of years, the land was cleared in the mid-1800s, developed into a lumber depot and named Chamberlain Farm. In the first half of the 20th century, the farm was turned into a rustic enclave for hunting and fishing enthusiasts. Later in the century, efforts to protect the area's historic and wilderness character culminated in the creation of Maine's Allagash Wilderness Waterway and its federal designation as the nation's first state-administered wild river area in the National Wild and Scenic Rivers System. Today, wilderness lovers are discovering that they must be ever vigilant to preserve what they think has been saved.
Historian Dean B. Bennett traces those transformations, bringing to life the people involved, their motivations, and the interconnected effects of their actions. Beginning 10,000 years ago with the retreat of the glaciers, Bennett offers an overview of the forces that shaped the land, and the visitors to and inhabitants of this place once known as Apmoojenegamook-"lake that is crossed."
The book describes and explains the perspectives revealed by those attracted to the farm and its environment-from early trappers and surveyors to 19th century lumbermen and naturalists (including Henry David Thoreau, who passed through the area on one of his excursions in the Maine woods) to 20th century sportsmen and conservationists. the dynamic history of the farm and its setting illuminate society's evolving perspective on the natural world around us and offers a valuable lens through which to view the changing relationship of people and the land.
Dean B Bennett is professor emeritus at the University of Maine at Farmington. Much of his professional life has been devoted to teaching and writing in the fields of science and environmental education, natural history, and human relationships with nature. His books include Allagash: Maine's Wild and Scenic River (Down East Books, 1994) and The Forgotten Nature of New England (Down East Books, 1996).
Making a Difference: Stories of How Our Outdoor Industry and Individuals Arre Working to Preserve America's Natural Places
by Amy Irvine and Rick Ridgeway (Introduction)
Paperback - 290 pages
April 2001


Globe Pequot Press; ISBN: 0762709138
This is a lyrical and inspiring collection of true stories about people who made a difference.
Never underestimate the power of one person, one cause, one passion, or one voice: it may be enough to move mountains. Or, it may prevent them from being moved, as is often the case in Irvine's chronicle of stories about individuals who, when faced with an assault on their local environment, discover that they must act on the courage of their convictions or lose a way of life as important to them as the air they breathe.
Anger and shock are transformed into action and success as these concerned citizens secure the support of the Outdoor Industry Conservation Alliance and form grassroots environmental organizations dedicated to saving wildlife orwilderness threatened by governmental, commercial, or corporate development. Whether rescuing a pristine stretch of river in northern California or restoring the native habitat of the wolf in northern Maine, each cause brings together, to profound effect, people passionate about preserving a vulnerable and precious way of life. Irvine provides inspiring and informative reading in the best "David versus Goliath" tradition. Bottom line:determined and creative citizens can win. The book is a pleasure to read and a powerful antidote to the cynical and defeatist attitude that it is too late and too difficult to defend our habitats, watersheds, rivers, and last wild places from degradation.