The BoiseCascade Campaign
There are timber companies, and then there are timber companies. Boise Cascade is one of the world's nastiest, as it is a prolific harvester of old growth, and is one of the nation's primary purchasers of National Forest timber (#1 until recently).
Simply put, this company has refused to cooperate, and maintains an utterly corporate defiance of any notion of sustainability or ecosystem awareness. They habitually convert old-growth forests into managed plantations (tree farms) that have few of the ecological characteristics of a native forest, and attempt to call it 'sustainable forestry.'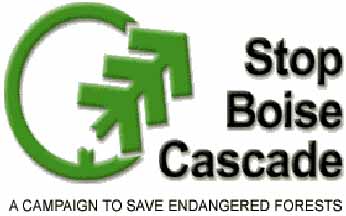 Besides the traditional timber infractions, Boise Cascade has ventured into a few 'extracurricular activities' just to add insult to injury:
· Boise Cascade is a primary plaintiff in the lawsuit against the Roadless Area Conservation Rule, and is the only timber company represented in the lawsuit.
· Boise Cascade is currently engaged in a smear campaign against Rainforest Action Network(RAN), and is in cohorts with a conservation group called 'Frontiers of Freedom,' trying to undermine the financial base and tax-exempt status of RAN.
· Boise Cascade's purchases of timber in Mexico led to the resistance led by now-famous activists Teodoro Cabrera and Rodolfo Montiel, who now sit in a Mexican prison after landowners and local authorities retaliated.
Whenever there is ecological destruction in the world's forests, it seems, Boise Cascade is there. A long a sordid resume of this timber giant can be found at: http://www.ran.org/ran_campaign/old_growth/boise_briefing.html
Leading the coalition resistance is Rainforest Action Network, and many other groups have joined in blowing the whistle. Your SSC group can join the effort and show Boise Cascade that their public image will only worsen until they agree to correct their behavior and start doing environmentally responsible logging.
Similar campaigns led by RAN, such as the successful boycott of Home Depot and International Forest Products, show that placing a stranglehold on its market and publicly embarrassing them by the above strategies will eventually bring success.
We are demanding the following from Boise Cascade to meet before we can declare "victory":
· Phase out logging and selling of all wood products from old growth forests;
· Terminate all logging and selling of wood products from public lands in the United States;
· Commit to no further conversion of native forests to plantations;
· Cease development and planting of genetically modified trees.
· Adopt logging standards that meet or exceed those of the Forest Stewardship Council(FSC).Note: FSC is an internationally recognized accreditor of logging sustainability. Boise Cascade is using a sham, self-administered system called the Sustainable Forestry Initiative for public relations purposes alone.
TIPS & IDEAS FOR YOUR BOISE CASCADE CAMPAIGN:


Go directly after Boise's major purchasers. Timber companies are very protective of their large, institutional purchasers. If you can get letters from local purchasers, such as your local Kinko's, college department, etc. disavowing the use of Boise Cascade products, it will get their attention!
Use their nastiness against them. This latest episode involving Frontiers of Freedom may turn out to be a major miscalculation on their part - just imagine the mega corporation trying to silence the grassroots citizen's group! It has united activists from various progressive causes, and may serve to further isolate Boise. Don't hesitate to play this card. Read about the July coalition protest at: http://www.ran.org/news/newsitem.php?id=396&area=oldgrowth
Use peer pressure. Several other timber and wood product distributors have pledged to avoid old-growth, and so should Boise Cascade. Are any of these respectable wood distributors located in your community? Check at: http://www.ran.org/ran_campaigns/old_growth/og_timeline.html
Emphasize alternatives. It is a simple matter of consumer and store choice to avoid Boise Cascade products, and usually financially painless. With stores, it may be as simple as one ask. A few letters to the editor or an op-ed in the school paper can create negative name recognition, making it more likely that they'll reach for the Weyerhaeuser brand (or whatever) paper/wood product.
More information on the Boise Cascade campaign can be found on the Rainforest Action Network's website at http://www.ran.org
The above information is from the website of the Sierra Student Coalition, the student run arm of the Sierra Club.